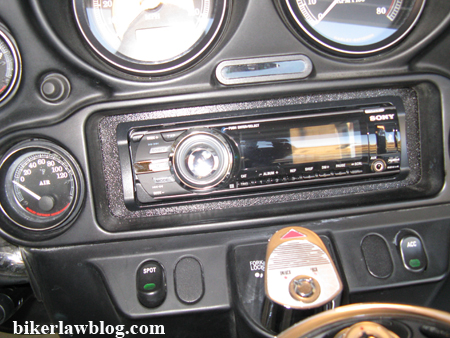 See Video Review Below!
Background
I am a long distance motorcycle rider. This summer I am not only planning on riding to the Sturgis motorcycle rally which is a 2700 mile round trip plus ride, I am also planning on doing other rides, not to mention the 2000 miles I have already put on in the last couple of months. I wanted a state of the art stereo on my motorcycle with built in MP3 for my music collection, a built in High Definition receiver, and the ability to have built in Satellite reception for when I am in the middle of no where. I want to listen to CNN in the middle of the Western Desert!
In 2005 I switched to a Harley Davidson Electra Glide motorcycle from a traditional cruiser motorcycle. Before 2005, I had never ridden with a stereo system built into a motorcycle before, hell a windscreen was luxury to me back then. Since 2005, I have become spoiled. I will probably always ride baggers from here on out. Once you get used to luxury it is hard to turn back.
My Harley Davidson Electra Glide came with the Harley Davidson Advanced Sound system installed in the bat wing fairing, which in of itself has done its job quite well over the last 5 years, but the technology is outdated, even on the new units.
On my unit, there was a built in CD player, minimal AM/FM presets, built in weather band, and a sensor which increased volume as I would increase speed on the motorcycle. There was also an auxiliary input which allowed me to plug in an external MP3 player so I could listen to my music collection. The system worked with my OEM hand controls so that I could virtually control the entire stereo via my OEM handlebar mounted hand controls on the Electra Glide. The unit is great, but it is old technology. If all you want is a standard CD, a few AM/FM presets, and weather band, this unit is perfect for you. I am a tech geek, I wanted more!
Over the years I have plugged in an I-Pod, a smaller MP3 player, and I have also used my Garmin GPS to serve music to the Harley Davidson Advanced Sound System via a cable plugged from the device to the auxiliary input of the Harley Davidson Advanced Sound System. It worked, but to be frank, there was no real control of the tunes being played unless I dangerously tried to skip tracks while I was riding because the external device was controlling what was being played rather than the head unit. There were issues with the volume of my MP3 device having to be cranked up to full volume to sound good through the auxiliary input, and each device sounded different through the stock stereo.
Furthermore, the cable plugged in from my GPS, or a device in my pocket looked like crap, it flutters in the wind, and the quality of having an external connection is not as good as it could be. Not only that, but everytime I got off the motorcycle, I would have to unplug my external MP3 player, turn off the external MP3 Players, etc. If the battery wore out on my external MP3 Player, I was shit out of luck. Lately using the GPS solved many of the problems, but I had no real control of the tunes being served to the Harley Davidson Advanced Sound System. When I got back on the motorcycle, I would have to plug everything back in, and start the MP3 player before I started riding, a real hassle; I am sure you get the picture, because many of you are doing this right now!
For short trips, rather than plugging in my external MP3 player, I used one of my home burned CD's in the OEM system, which I have probably listened to over a 100 times now. It gets old if you know what I mean.
Let's face it, with MP3, standard CD's are obsolete, even CD units which read MP3's, and other digital formats are obsolete because you can only fit so much on a disk, and most of these units have a limit as to how many tracks can be on a disk even if you buy the more expensive DVD format units.
Modern technology allows you to literally have every song ever made on one thumb drive, or standard USB disk drive now. There is no reason to ever have to switch CD's anymore. Most of you including me don't have every song ever made on disk, but my collection is almost 4GB and growing weekly.
There was an MP3 option for the Harley Davidson Advanced Sound System, but it is an external unit that mounts to the handlebars and it is ridiculously expensive for what they give you. Plus you are severely limited to memory on Harley Davidsons MP3 option. On top of that, the new Harley Davidson Advanced Sound Systems need to be programmed at the dealer. If the unit goes dead, it can only be revived by a dealer reprogramming it. How much would that cost everytime? No thanks, I love Harley Davidson, but the reason I am upgrading is to go state of the art. Their solution is not state of the art.
The Biketronics Article and Review Continues below the two videos.
One good thing about the Harley Davidson Unit is that it was as reliable as a beast. It is basically waterproof. I have ridden through rain storms, and washed my motorcycle many times, and the stereo kept working no problem.
Well recently, I decided to upgrade my stereo to an aftermarket non OEM stereo so that I could have modern electronics on my motorcycle the way I wanted it, and not the way Harley Davidson wanted it.
Research
My first dilemma was to find a stereo system (head unit) that would work with the existing hand controls on my Harley Davidson Electra Glide, and that would mount in the faring without having to modify the OEM wiring. I wanted a plug and play solution.
I found two companies which allow you to adapt aftermarket stereo systems to the motorcycle, using the OEM wiring, and your existing Harley Davidson Hand Controls. One of the companies is called Biketronics, and the other one is called Hawg Wired. Each of these companies sells adapters and units which allow you to mount an aftermarket stereo into a Harley Davidson Cruiser without having to change any of the wiring, and let's you use your hand controls, just like you would with a Harley Davidson Stereo.
A negative note with upgrading the stereo unit with an aftermarket solution is that replacing the head unit will disable your built in CB, and intercom if you have it on your motorcycle. I myself have an FLHT Electra Glide Standard that had the Advanced Sound System installed by the dealer upon pickup of the motorcycle. I did not have the CB or intercom option installed because I don't use them.
Let's be frank, at highway speed on a Harley Davidson, a CB or intercom are virtually useless because of the wind noise anyway, so it is a feature I did not waste my money on.
Furthermore, even if I did have the CB or intercom installed on my Electra Glide, I would willingly disable them anyway in order to have a turnkey state of the art stereo on my motorcycle, that I could upgrade in the future for a nominal cost, as technology advances. There are Bluetooth headsets out there now that mount to your helmet that can be used to replace the CB or intercom if you absolutely have to have those options. The tradeoff depends on you. For me the decision was a no brainer.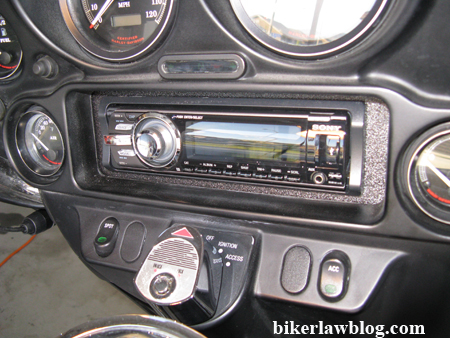 After much research, and a lengthy telephone call, I opted to go with the Biketronics setup, because of the good reviews I read about them on the internet, (their units have a lifetime warranty) and their units seemed to be more straightforward to me. I must note that many guys said good things about Hawg Wired as well.
A Biketronics tech support guru spent at least a half an hour on the phone with me before and after my purchase. You can tell that they are bikers themselves, and are really into their product. They know what they are talking about.
The guy from Biketronics highly recommended a Sony Marine Unit that they sell because they are waterproof. However, my Internet research showed that guys without the Marine Units who wash their motorcycles, and ride through rain, have ridden for years with a standard unit with no problems at all. Furthermore, the Sony Marine Unit did not have all of the features that I wanted, which was the whole reason for upgrading anyway. I wanted my stereo to be state of the art, the way I wanted it to be!
Another factor that was a deal maker for me was that Biketronics stated that if you use a Sony head unit, their adapters were plug and play, including the mounting unit they sell, and the clear plastic cover they sell for their mount as well to protect the unit from rain or water. This is what I wanted; plug and play, no hassles.
My next issue was which stereo system to buy. Biketronics sells a complete kit including Sony Stereo, Hog Tunes speakers, all of their adapters, a clear plastic splash cover, and a powered in fairing antenna. The cost of this package which includes the basic Sony CDX-GT640UI was $509.88 with free shipping. Biketronics also sells a couple of other Sony Head Units, including a waterproof marine version. The other Sony Head Units will add an additional $10-$40 dollars to the cost of the package I mentioned above.
To put this in prospective, a Harley Davidson Advanced Sound System is around $1,000.00 and does not include the Hog Tunes Speakers or the powered in fairing antenna, and the Harley Davidson Stereo is obsolete compared to the Sony Stereo.
Since I have already previously installed Hog Tunes speakers and a powered in fairing antenna when I installed a Premium Tour Pak with the removable bracket, I did not need either, so why pay for them in a complete kit?
Further, I wanted to be able to buy the Head Unit that I wanted rather than going with only the head units that Biketronics sells, plus I did not want to put all of my eggs into one basket.
For Stereo (head unit) research online, there is one vendor that I know and trust, and that is Crutchfield Electronics. They are the car and home stereo experts online. They have a huge selection of stereos, they have all of the features, specs, pictures, and options, online, and they are reputable. You can speak to them 24 hours a day and they honor warranties and have a generous return policy. I previously purchased my powered in fairing antenna from them for $19.00 which is around $20.00 cheaper than the Biketronics version, and it appears to be the same thing!
I went one step further; I wanted to look at all car stereos and not just the Sony's.
Biketronics and Hawg Wired both sell kits to adapt to non Sony units that work with your OEM wiring, and OEM hand controls, but based upon what I read, the install might be a bit more dicey for non Sony systems, rather than just settling for a Sony which is guaranteed to work with the Biketronics. The caveat is that whatever stereo I chose must have a plug in for the steering wheel controls, which is how both Biketronics and Hawg Wired adapt the Harley Davidson Hand Controls to the stereo system.
I looked at many different stereo systems. I spent days looking at systems. I finally found the Sony CDX-GT700HD which you can see by clicking here, for $179.00 with free shipping. This unit is only $20.00 more than the base unit that comes with the Biketronics Kit, and the biggest difference is that it has a built in High Definition Digital Receiver on top of the standard Analog AM/FM receiver. None of the other stereos I looked at had the built in HD receiver. On the others you need to buy an HD Receiver Adapter for an additional $150 or so. This included the Pioneer's, the Alpine's, the JVC's, and other stereo's I looked at.
Another big feature is that this unit has a front slide covered plug in USB port, and auxiliary port. I realized that I could plug in a thumb drive into the front with my entire music collection on it, and that the stereo would control it digitally without having to convert from Analog to Digital like I used to have to do with my Harley Davidson Advanced Sound System with the auxiliary port.
The Sony CDX-GT700 HD also has a XM or Sirius direct Satellite radio tuner option that installs right into the unit, so that I would not have to worry about having an external satellite receiver plugging into the Auxiliary port of the stereo, or using FM from a separate Satellite receiver to transmit to the head unit. I could control the Satellite directly from the Head Unit while on the road. This is what I am talking about!
Another feature for a stereo that I was going to mount on my motorcycle is that I wanted a removable face plate that I could make non removable if I wanted, and I wanted the CD plug in to be behind the faceplate to prevent dust and dirt from going into it.
Now the Sony stereo which has unparalleled sound quality, has so many features and specs that there is no way that I can cover them here. All I can say is that it is like having an iPod with full control right from the head unit with all of the features of a State of the Art Stereo.
I could not find any other stereo that surpassed the built in features of the $179.00 Sony CDX-GT700 HD, not even the real expensive ones. Many of the high end units require an external HD tuner, most had the CD slot open in the front, (more appropriate for cars) and many had the USB, and Auxiliary ports in the back of the unit rather than the front. This kind of setup would require you to open the faring and run wires everytime you wanted to change what was plugged in the darn thing, or run a live wire to somewhere on your motorcycle such as your saddlebags, etc. No thanks! I wonder what would happen if those live wires get wet.
I even looked at the units which have actual motorized screens that pop out of the unit, and allow you to have GPS on the Screen, and be able to Watch DVD's, and even have a rear mounted camera view on the screen from your motorcycle.
These systems seem fantastic, but the guy from Biketronics told me that anytime you have a unit with a moving motor, such as these units which have a motor to drive the screen out, that the vibration on a motorcycle usually make them go bad quickly. Not only that, but the units I looked at were in the $1,000 range, and they also did not have the front USB and Auxiliary connections that I wanted, plus they did not seem practical for a motorcycle solution.
Although I have seen some guys with these units installed on their motorcycles, they look cool and the bling value is there, I need turnkey functionality, not bling!
I was again brought back to the Sony CDX-GT700 HD again and again, no matter what I looked at, so there it was, I decided on the Sony CDX-GT700 HD from Crutchfield Electronics, this is what I wanted. Here is a link to the actual system I purchased.
Now going back to the Biketronics kit which would allow me to install the system, I decided to buy the components I needed, rather then the complete kits they sell. I got the best Sony stereo that I could find, plus the whole thing would be cheaper for me than buying their whole kit.
I purchased the following from Biketronics to install my Sony CDX-GT700 HD into my Harley Davison Electra Glide:
(1) BT 1000 – 1998-2005 Sony Radio Install Kit, $199.95 (free shipping)
(2) Sony Harness w/Connector, $14.95 (free shipping)
(3) BT Splashcover, $19.95 (free shipping)
_______________________________________________________________
Total Price from Biketronics = $234.85, (free shipping), No tax.
I purchased the following from Crutchfield Electronics:
(1) Sony CDX-GT700 HD, $179.95 (free shipping)
(2) SoundKase DFC1X Black, $9.99 (free shipping) This is a case you put the faceplate into when you take it off of the motorcycle.
_______________________________________________________________
Total Price from Crutchfield Electronics = $189.90, (free shipping), No tax.

Total Price of Radio Upgrade Project: $424.75
The total price of my radio upgrade project was around $45.18 cheaper than buying the complete retro radio kit from Biketronics with their stereo included, and I got a much better stereo than comes with their kit. As stated above, I already previously purchased the Hog Tunes speakers, and a powered in fairing antenna. Now for guys that have an FLHT without a stereo, and are installing the stereo from scratch the Biketronics kit is just a tad more expensive.
After my order, the Biketronics kit arrived within a couple of days. The Crutchfield order took about a week to arrive.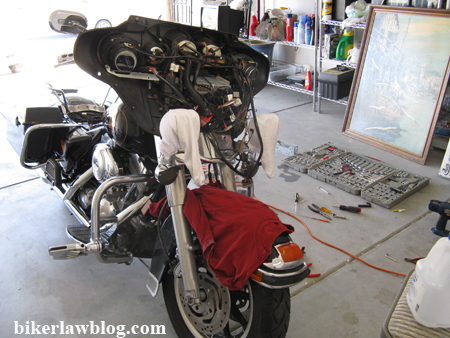 Installation
First off, I got my tools out, unpacked the Biketronics Kit, and the Sony Stereo. I read the instructions for each before I began. It looked like it would be a very easy installation.
First, I removed the Sony stereo from the mounting cage that it comes with out of the box, and discarded the cage because it is not used in this application.
Then, I took the heavy vinyl that comes with the Biketronics kit. I removed the backing to expose the sticky surface, and placed it on the top of the Sony Stereo where indicated, and down the sides. I trimmed off the excess from the sides and back. It is obvious that this vinyl is stuck on to protect the stereo from dirt, debris, and water. No problem at all with this process.
I than removed the seat from my motorcycle, and disconnected the battery, negative first. The last thing you want to do is install something like this with the motorcycle battery connected. You could cause a short and do serious damage to your electrical system. Don't be a fool; take a few minutes to disconnect your battery.
Then, I removed the outer Bat Wing Fairing. I am not going to describe how to remove the fairing here. If you are interested in how to remove the outer Bat Wing fairing, I previously wrote an article about removing the faring when I installed the Hog Tunes speakers which you can read here.
I then unplugged the Antenna from the Harley Stereo, and the two large connectors that plugged into the back of the stereo.
I proceeded to unbolt the 4 hex bolts which hold the stock Harley Davidson into the bracket where it mounts. I used a basic hex wrench squeezing it in inside the bracket to get the bolts off. My fingers were too big for this process but I got them out. It was a bitch.
I knew there must be a better way to remove and install these bolts, and realized it would be almost impossible to get the bolts back in if I used the reverse method of how I removed them. I decided to look in my factory service manual. The manual recommends using a long socket hex attachment that goes in through holes on each side of the bracket. Damm some times looking at the factory service manual helps. I could have got the damm attachment from Wal-Mart and had the stereo unbolted in seconds, but instead, I found a long standard hex wrench in my tool kit, put it in through the holes on the side of each bracket, and it worked like a charm. It took a few more seconds than using a socket attachment, but I saved a few bucks and time driving to Wal-Mart. If you are doing this install and you don't have longer hex wrenches, just go to Wal-Mart and buy the socket attachment for $10.00. You can return it when you are done!
The instructions then said to lift the back end of the Harley Davidson system up, and pull out. Well I did this a few times, and the Stereo was not coming out. I was pissed off. I got on the internet and went on a few forums to confirm that you were supposed to just be able to pull the stereo out from the front. (Not the tank side of the stereo, but the front headlight side) Everyone responded that it should come right out.
One guy recommended that I remove the bolts from the vertical fairing stabilizer bracket to give more room for the stereo to come out. When I went to remove the bolts I discovered that I had the dreaded broken vertical fairing stabilizer bracket on the left hand side, and my horizontal bracket under the speaker was also broken. I was truly pissed off at this time. (This is a known bug on this motorcycle; I will discuss this issue on another article.)
My stereo was not coming out and as I tried, it was bending the inner fairing. I was worried that I would crack or break the inner fairing that is how bad this was. Here I am looking at my motorcycle all taken apart, and I could not get the damm stock stereo out. I decided to try again, and to use more pressure. Either the stereo was going to come out or I was going to break something.
I finally felt a bit of a pop and the stereo came out. It turns out that I got lucky; the asshole that installed the stereo in my motorcycle thought it would be a good idea to put what looked like rubber cement on the top and bottom of the front of my stereo where the front bezel meets the fairing, when he installed it. This is not standard. I guess he thought that it would stay in my solid that way. It sure did stay in solid, even when unbolted it would not budge. I almost destroyed the fairing getting it off.
Now I could finally install the new stereo.
First, I slid on the front black mounting piece that comes with the Sony Stereo and snapped it in place on the front of the unit. I then slid on the black bezel that comes with the Biketronics kit. The bezel is what goes against the fairing to seal the stereo from the inside of the fairing.
I then bolted on the two blocks that mount to each side of the Sony stereo which allow the stereo to be bolted into the Harley Davidson stereo bracket inside of the fairing. I did not over tighten the bolts as indicated.
I then lifted the back of the stereo and pushed it in and down into the fairing so the bezel was flush with the front of the fairing, and then bolted the stereo into the fairing bracket using the same screws that I took off of the stock stereo. It was easy to bolt on because I went through the sides as described in the service manual. You do not need the service manual to do this but it helps. All you need is the long hex wrench and then bolt in through the holes in the bracket on each side.
At this point I was not sure if the front bezel was flush with the front of the fairing, so I removed the Sony and reinstalled it. I discovered that I had it right the first time, but it was no big deal.
The Sony is much smaller and lighter than the stock unit which took some time to get used to. It is newer technology.
Now that I had the Sony mounted, I plugged in the Antenna. I then took the Harley Davidson wiring harness, and plugged it into the Biketronics retro radio kit. I then took the Sony wiring harness and plugged one end into the Biketronics retro radio kit, and took the other side and plugged it into the back of the Sony Stereo. I plugged in the connector for the hand controls into the stereo making sure that the plug was facing up as stated in the instructions.
Everything was ready to be tested per the Biketronics instructions. I installed the battery, and put the starter into the auxiliary mode. The stereo powered up, but there was no sound at all. I tried to fidget with the sound controls but nothing. I could tell that the speakers were not getting any juice at all. The Sony Stereo has a feature where when power is turned off, it beeps a few times to remind you to remove the faceplate. There was no beeping.
I went into the fairing and discovered that my speaker's wires routed to a separate plug, and that there were also speakers wires routed to the back of the bike under the seat which went to the same plug. My stock stereo had two big plugs, one for the power and hand controls, and one for the speakers. The Biketronics kit only had one plug which was supposed to accommodate everything so they say.
At this point after all of the above hassles I went through I was pissed off. I thought Biketronics sent me the wrong adapter. I had to wait for the next day to talk to them. Their tech support told me that I had a unique setup on my motorcycle. It looks like it was set up for an amplifier on my motorcycle. They told me my wiring was non standard and they had only seen this issue once before.
To be frank, my Harley stereo had two big plugs, one of which was for the speakers. I cannot see how this is non standard if the stereo had the separate plug. The guy from Biketronics insisted that I had a non-standard setup.
We mutually agreed that the easiest and best solution would be for me to manually wire the speakers to the Biketronics Sony Adaptor. This would prevent me from having to cut into the Harley stereo plug harness. All I would have to do is unplug the stereo speakers, and run separate wires to the Biketronics Sony Adaptor Plug. It was basically 1 2 wire connection for each speaker. It sounds like a bitch but it is really no big deal. Any of you who have wired up a home stereo know that is real easy to wire up two speakers.
My only complaint was that this thing was supposed to be plug and play, and now I would have to manually wire the speakers to their harness.
I went to Wal-Mart and got a universal wiring kit with spade lugs and a crimper so I could do the job right, plus I got some wire. Turns out the spade lugs in the kit did not fit on the Hogtunes speakers, and the wire was too large of a gauge to work with. I went to Auto Zone to get thinner wire. To make a long story short I spend I significant amount of time trying to make my own spade lug wires, etc. but the connections were no good. I then tried to solder the wires directly onto the speaker lugs but they would not stay on.
Finally, I opted to just use the factory wires which I cut half way down and connected to the Biketronics Sony Harness and then wrapped real well with electrical tape. Again, it sounds like a nightmare, but it was only 4 wires total.
I then put the starter switch on Auxiliary, and wholla, I had tunes. However, I had to fix the broken fairing stabilization brackets before I could button the motorcycle up. I will discuss this in a later article.
I then buttoned everything up. I did have a minor issue while tie-wrapping the Biketronics module into the fairing. The kit did make my fairing tighter than before. I am sure that I could have done a better job tie-wrapping the unit into the fairing, but I had done some other work to the motorcycle and I was tired. I got it in, and the fairing buttoned back up.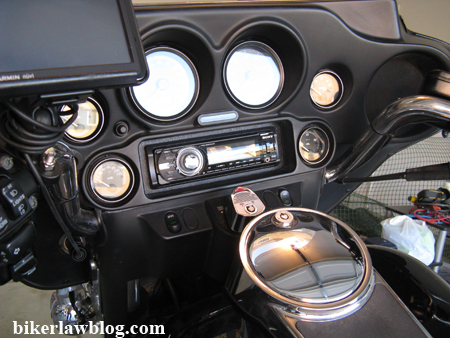 Testing and Operating the Stereo
I am not going to go into much detail here because this stereo has many features and options. The manual is pretty extensive. If you want, you may read the Sony stereo installation manual by clicking here, and the operating instructions manual by clicking here.
First I tested the AM/FM/HD reception; it works and sounds fantastic. Local HD stations tune in just fine, and give you a display on the radio face of what artist is playing, etc. This is the first time that I have heard my favorite station in Los Angeles; 95.5 KLOS in HD sound. There is absolutely no sound or static at all. The stations transmit in digital HD. HD reception never has static like FM- Frequency Modulation (Analog), or AM-Amplitude Modulation (Analog) stations. I am going to have more fun with HD as I ride with the motorcycle more.
I burned a CD on my computer with about 300 MP3's on it. This would be a backup music option in case I did not have my thumb drive music collection, my I-Pod, or another MP3 player with me. The CD worked flawlessly and sounded great. The stereo does have to be turned on to feed a disk into it. The artist and song info displays on the face of the radio like it is supposed to while playing.
It was then time for the biggest test of all, my entire music collection copied onto a USB thumb drive.
I copied my entire MP3 music collection, excluding full albums onto a 4GB thumb drive and plugged it into the front USB port on the stereo.
I was kind of worried beforehand that the vibration and wind of a motorcycle ride on the road would cause the thumb drive to dislodge and fall out on the road. One of the reasons I got the stereo in the first place was so that I could simply plug a thumb drive in without any cable, and that I could have my entire music collection play on the stereo without any cables or external players.
My worry was not a problem. I have now ridden at speed for many miles with the thumb drive plugged in, and it has not come loose at all, nor has it come out, or even come close to falling out. Believe me; I have ridden at speed on the freeway as well.
The ability to plug in a thumbdrive direclty into the Sony Stereo from the front, is the biggest feature of the stereo by far in my opinion. The feature gives me the ability to have my entire music collection on a miniture thumbdrive, plugged directly into the head unit, with pure digital music going directly into the stereo by way of the USB, and then having the Sony's electronics convert it into excellent sound.
As I stated above, by plugging into the Aux port on the old Harley Davidson Advanced Sound System, you are using an external MP3 device to convert the digital to analog for you, and then the headphone jack is used to plug into the Harley system with a cable. With this method there is some signal loss at the Aux jack no matter what you do, plus there is no real safe way to control the tunes while riding.
I was able to hear some of my songs (my music collection is so big that it would take about 3 days to hear every song) as clear and as good as can be. Plus I was able to read the artist and song info on the faceplate which is something I could not do before with the Harley system. On top of that, I could also toggle through my collection while riding using the Harley Davidson stock right Hand Control.
There is another feature in the stereo that makes finding tunes much easier when riding, it is called the Quick-BrowZer Mode. When the button for this feature is pushed it basically plays about 15 seconds of each song in your collection, when you reach a song you want to hear you just push the big select button, and the stereo then starts the song from the beginning.
I have used the stereo for many hours now and the sound quality blows away the stock Harley Davidson stereo system.
Although the Sony stock head unit only puts out around 17 watts per channel, for 4 channels without an amplifier, which is around the same output as the Harley Davidson Advanced Sound System, this stereo is better sounding and louder than the stock Harley Davidson stereo.
Since I am already running Hogtunes speakers on my motorcycle, I get no distortion at all when the stereo is cranked up.
Future Options
This stereo is setup to accept XM or Sirius satellite with a quick plug and play option. I did not order this option initially because I wanted to make sure that I was going to keep this new setup. I am probably going to get the satellite option for this stereo in the very near future, especially before I go to Sturgis.
I am also contemplating getting an amplifier for my system. Although the stereo is already loud now, I do not want to really have to crank it up at highway speeds. Let's face it, when you are rolling at 80mph with a full face modular helmet on, and ear plugs, any stock stereo system will be very difficult to hear, even if it is cranked up. I know that with a nominal amplifier, I can get the stereo loud enough to hear even at highway speeds.
I am sure that if I removed my ear plugs, or if I only wore a beanie helmet or no helmet, I would be able to hear the stereo just fine, even at highway speeds. However, due to my tinnitus which has been caused by many years of riding without hearing protection, I do not want to damage my already damaged ears.
Biketronics and Hawg Wired each sell amplifiers; however I feel that each of their solutions is too expensive. I think the minimum price of their solutions is $399 plus. I can get a cheap two channel amplifier from Crutchfield for around $99 that will probably do the trick.
Why pay $399 plus if I can do the same thing for $99?
One big issue for me will be to get an amplifier that is small enough to mount in the fairing above the Sony stereo that does not generate too much heat and one that does not drain too much power. A motorcycle electrical system is not as strong as a car electrical system, so any amplifier I get will need to work on the Harley Davidson.
If I find that the Crutchfield cheapo solution does not work to my satisfaction, I will buy an amplifier from either Biketronics or Hawg Wired.
Rap Up
Bottom line, I cannot believe I waited so long to upgrade my system. I can think of countless trips I have taken that would have been much better had I been able to have a system like this on my motorcycle.
Like you I wanted to keep everything OEM. However, I got sick of using obsolete technology, or being extorted into paying Harley Davidson's high prices to not get everything I wanted.
Now I have almost everything I want. I would recommend that everyone upgrade their Harley Davidson Sound System to the latest and greatest aftermarket solutions. There is no need to stick with obsolete technology anymore.
Just a side note, none of the vendors mentioned on here provided me with any product or compensation in return for this review. I wrote this review because I know that many of you out there are contemplating this type of upgrade or installation.
By California Motorcycle Accident Attorney and Biker Lawyer Norman Gregory Fernandez, Esq., © 2010