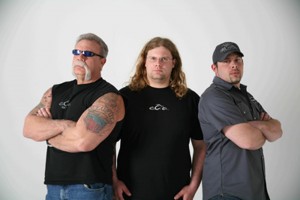 Well tonight the new American Chopper, Senior vs. Jr. aired on cable TV. As far as I know it is now the only show on TV that features motorcycle customizers. 
I must admit, I enjoy this show, that is why I watch it, and that is why I write about it. It is basically a soap opera for bikers, but I don't care. It is better than watching "Cake Boss." 
As far as tonight's debut show, some things were revealed. Sr.'s lawsuit against Jr. is real. The brothers had not talked to their father for over a year until they talked to each other on a radio show, and it appears, the father truly wants his son's to come back to the shop so long as they respect him. 
We saw Jr. spending his dough to either buy or lease a building for his new shop, and we saw the return of Vinnie, who will apparently now go to work for Jr. I guess Vinnie's own custom motorcycle shop that he started with Cody is no more. 
I don't care what anybody say's, this show is entertaining, even though it is basically the same old show. 
At least now we will get to see Jr. building motorcycles again, instead of designing doggie parks pro bono for the city. 
If you read between the lines you will see a few things; these guys are making a lot of dough doing what they do. It may have been a forgone conclusion that OCC would have gone out of business had the show not continued, especially in this economy. 
But get one thing straight, these guys are major TV stars with a huge following. The most viewed article on the Biker Law Blog was one of my articles about American Chopper. The article has had almost 250k unique hits and 133 comments.
Apparently I am not the only one that watches this show. 
No matter what you think, you have to admit one thing; it is good to at least have one show on TV about motorcycles. 
By California Motorcycle Accident Attorney and Biker Lawyer Norman Gregory Fernandez, © August, 2010