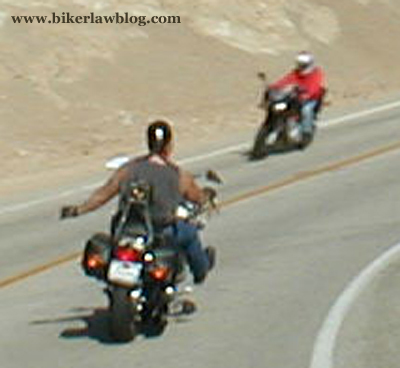 Many motorcycle riders are seriously injured and die each year when they fail to negotiate turns or curves, and either end of in the opposing lane of traffic, or they lose control and crash.
It is unbelievable to me just how many experienced riders sometimes fail to properly negotiate turns or curves on the road, especially when riding canyon roads, or twisties.
What is the main reason for motorcycle riders failing to negotiate curves or turns? Excessive speed is the main reason.
If you ride too fast through a curve or turn, chances are you are going to either end up in the opposing lane, or you are going to crash.
What is the main way to avoid crashing on a curve or turn? Slow the hell down!
Many motorcycle safety courses teach that you should slow down before you enter a turn or curve, and never to brake or downshift while in a curve or turn. I say bullshit.
Look I have been legally riding motorcycles on the road for 32 years, since the age of 16. In my own personal experience, sometimes it is hard to judge if you are entering a curve or turn too fast.
If you have entered into a turn or curve too fast on your motorcycle, you need to do anything you can not to panic, not to cross over the yellow line into opposing traffic, and not to crash.
My rule is that if you are in a curve or turn too fast, do what you have to do to safely get through the turn or curve. If that means hitting the brake, do it. If that means downshifting, do it.
I have ridden with guys who absolutely refuse do brake or downshift in a turn or curve. I have also seen these guys both in front of me, and in my rear view mirror cross the yellow line into oncoming traffic. Thank goodness none of them have ever crossed the yellow line when a car was right there or they would have been a windshield bug splat.
They teach you in motorcycle safety courses that before you enter a curve you should direct your motorcycle to the farthest part of the lane away from the turn so that you can theoretically see around the turn more.
For instance if you are going into a left curve they say you should direct your motorcade more to the right so that you can see around the left curve, and if you are going into a right curve you should direct your motorcycle more to the left so you can see around the right curve.
They teach that you should not look at the road, but that you should look around the curve to where you are going and that your motorcycle will tend to go where you are looking.
Some say that you should put your knees close into the tank to help you get around the curve, and some say that you should concentrate on counter-steering to properly get around a curve.
I say they are all right to a certain extent.
However, when you are actually riding your motorcycle, you will find that you will at times have to look at the road and not just where you want to go when going around a curve, you will find that sometimes it is not safe to go to the farthest part of the lane away from a curve because of oncoming cars or debris on the shoulder, and you will find that concentrating just on counter-steering is sometime dangerous.
In the end the safest thing to remember when going around curves is to keep a safe speed period.
The one thing that will make you panic or feel uncomfortable more than anything when going around a curve whether it be on a mountain pass or on a highway curve is excessive speed.
If you first let off of the throttle, you motorcycle will naturally start to slow down because of the action of friction and the engine.
If you are still going to fast don't be afraid to apply a little front brake, but not too much because you may lose control. I like to apply both front and rear brakes.
If the turn is wet applying too much rear brake may make you slide out.
If you are still going too fast, downshift into a lower gear if you can safely.
If there are cars or other motorcycles behind me, and I am downshifting into a lower gear to slow down, I also try to tap my brake a bit just so the persons behind me can see my break light so they don't rear end me.
Even with plenty of practice and riding experience, riding through turns and curves requires current practice and experience.
The worst riders are sometimes the people with the most experience because they think they are the great riders so they sometimes do not exercise the caution that they should.
Riding a motorcycle is not like riding a bike. Each time you are out, you need to exercise caution and ride at a safe speed.
Keep both wheels on the road.
By California Motorcycle Accident Attorney, and Biker Lawyer, Norman Gregory Fernandez, Esq., © October 19, 2011