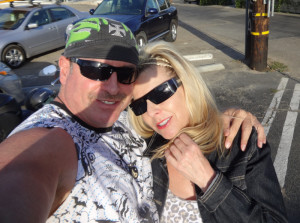 On June 8, 2014, I decided to take a little motorcycle ride down Pacific Coast Highway with one of my friends affectionately known as "the Swede."
This also happened to be her first ride on or Harley-Davidson motorcycle. Previously, I purchased a new helmet for her, because none of the helmets that I have in my collection would fit her head. She wears a medium.
After giving her some instruction on how to get on the bike, where to put her feet, and how to act on the motorcycle, we both saddled up and took off from my condo in Huntington Beach California. We went down Main Street, to Pacific Coast Highway, and headed south to San Clemente California.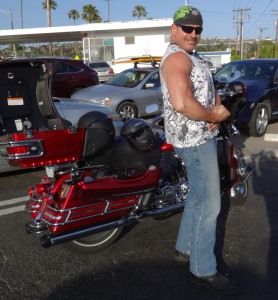 The ride down Pacific Coast Highway from Huntington Beach, California, to San Clemente, California, is marked by brief moments of good cruising, and a lot of stop and go traffic. The stop and go traffic is mostly in Newport Beach, and Laguna Beach.
There is however, some excellent ocean views on this run, and for the most part it is a stress reliever.
I always like to smoke a big cigar on this run. That is the beautiful part of having a Harley-Davidson Electra Glide, Ultra Classic. The fairing is a good wind blocker which makes smoking cigars while riding a breeze.
We had a pretty good ride, and I could tell that the Swede was really enjoy herself. It's always a good thing when a beautiful lady enjoys the backseat of a Harley-Davidson. I always like to be the first one they ride with 🙂
The Swede was a trooper, she did not complain at all. On some stops she even rubbed my shoulders, which is always a good sign.
I ended up taking her to a Mexican restaurant in San Clemente that I always go to. As usual, I had a protein bar, while I watched her eat a regular meal. I'm a weirdo when it comes to my diet. To be ripped at my age, you have to really watch what you eat. This is another story for another time.
For some reason on this day I did not bring a sweatshirt with me or a jacket. I have done this ride many times, since I live next to the beach. I should've known better. As we left the Mexican restaurant at approximately 7 PM, the weather was cooling significantly. Luckily the Swede brought a little jean jacket, and I had a pair of gloves for her use. I had nothing on myself but a muscle T-shirt. I knew it was going to get cold fast.
We rode back up the coast, back to Huntington Beach. One of my customs, is a stop in at Starbucks in Seacliff Village and have a coffee before I go home.
It was a great ride with my beautiful friend the Swede. I look forward to riding with her again very soon.
Unfortunately, I developed an issue with the volume control switch on my handlebar control, and will have to take it in the Harley-Davidson to get fixed.
Looking forward to going to Sturgis in less than two months.
By California motorcycle accident lawyer, and biker attorney, Norman Gregory Fernandez, Esq., © June 8, 2014