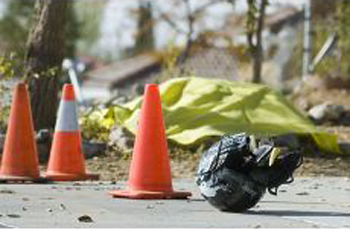 VICTORVILLE – California
A motorcyclist died Monday afternoon (11/9/09) after he lost control while doing a wheelie in a residential neighborhood and slammed into a tree in front of a home, officials said.
The rider was westbound in the 16200 block of Nisqualli Road around 1 p.m. when he hit a curb, lost control and veered in and out of the street, according to witnesses and Sgt. John Emmens, of the San Bernardino County Sheriff's Victorville station.
Ramiro Barbosa Jr. said he saw the rider pop a wheelie at Fourth Avenue and Nisqualli Road. He attempted a stand-up-wheelie but failed. He tried again, but on the second try he popped up and lost control, Barbosa said.
The motorcycle went into a "speed wobble," ejecting the rider who was hurled into a tree head-first. The Kawasaki Ninja sport bike then struck a chain link fence causing the vehicle to cartwheel before coming to rest four houses away, witnesses said.
Witnesses reported the 23-year-old man was traveling anywhere between 75 to about 100 mph.
Officials closed Nisqualli Road between Fourth and Sixth avenues as the Major Accident Investigation Team looked into the crash.
Resident Gabriel Madrigal said he had seen the same motorcycle doing stunts along the street on almost a nightly basis. Others stated the man lived in the neighborhood, but his identity was not immediately released.
Madrigal and neighbor, Ray Williams, heard the loud crash while they were in Williams' garage. They came outside to find the motorcycle in Williams' neighbors' driveway.
"It didn't hit anything but that chain link fence," Williams said. "It's pretty amazing."
Sport bikes make up 14 percent of the total number of registered motorcycles in California for 2008, but account for 38 percent of all motorcycle-related deaths on the state's highways, according to the California Highway Patrol.
I have said in many articles that if sport biker motorcycle riders want to do stunts on their motorcycles, they should take it off public roads and onto private property. Had this young man not been doing wheelies on the street he probably would still be alive.
Not only did this young man die, but I wonder how many of the people who either witnessed this accident or heard about it now have a negative view of bikers and motorcyclist as a result?
This did not have to happen!