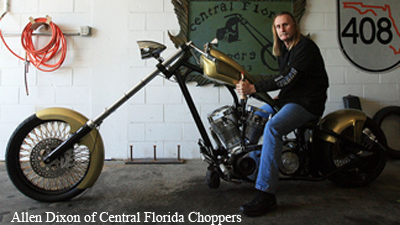 Through the open door at Central Florida Choppers near downtown Orlando, Allen Dixon can hear the rumble and roar of motorcycles traveling up and down Interstate 4.
It is, after all, Bike Week, and Dixon makes his living building motorcycles.
But right now, he isn't building many. The recession has sent the market for choppers — long, raked-out custom cycles with Harley-Davidson-style engines and tall "ape hanger" handlebars — straight into the Dumpster.
"The $40,000 and $50,000 bikes are gone for now," said Dixon. 46. "If anyone is buying, its bikes in the $20,000 to $30,000 range, and there's very little of that right now."
The downturn has also affected the used market. "Most guys are trying to sell their bikes. I can't build you one for what they're selling theirs for. I've got one in here right now — the guy probably paid $25,000 for it, and he said if I can get $10,000 for it, sell it.
"A lot of shops — a lot of shops — have fallen by the wayside. But we're still here, still have the lights on. We're struggling, but we're still here."
Many of us got an introduction to choppers 40 years ago with the release of the film Easy Rider, which had stars Peter Fonda and Dennis Hopper biking across the country, for a while with Jack Nicholson squeezed on the back of Fonda's bike.
Those bikes were built by California customizer Ben Hardy from retired Harley-Davidson police cycles. Hardy also built some of the bikes used several years earlier in The Wild Angels, one of a series of drive-in movies based loosely on the Hell's Angels motorcycle gang that helped cement the idea that chopper riders were nonconformists at best, and trouble at worst.
This was also when Japanese-built motorcycles began to make major strides in the business of building large motorcycles. As owners sought to customize their motorcycles, the chopper industry grew, but promptly receded to the point where only dedicated chopper owners kept the business going.
A major resurgence came in 2002 when American Chopper debuted on the Discovery Channel, featuring the bike-building Teutul family from New York. Television also made stars of other chopper builders, including Jesse James, who founded West Coast Choppers in his mother's garage in 1992 and is now a major personality married to actress Sandra Bullock.
Now, American Chopper has been canceled, the Teutuls are involved in million-dollar interfamily lawsuits, and Dixon feels the pain.
"The motorcycle market is flooded," he says. "That's the honest truth. But there are still a few guys out there who want to ride something special."
That's where Dixon comes in. He and the customer design the bike in advance.
"It's something we create together and make it one of a kind. Sure, you can go down to the store and buy a motorcycle, but if you ride it to Daytona this week, you'll probably see hundreds of bikes just like yours. The only difference is the rider and paint."
Owning something no one else has appeals to John Argall, a cabinetmaker and chopper rider: "To design something myself and see it built, and know that no one else has a bike like it — that's what I like."
Argall's bike, which Dixon built, is red with black trim — skulls, mostly — and is powered by a V-Twin S&S engine.
And unlike a lot of chopper riders, Argall rides his regularly, not just on weekends. "It's comfortable. After all, it was built especially for me, so everything fits just right."
Central Florida Choppers is obviously good at what it does: Trophies from motorcycle shows line the walls of the office.
Likely adding to the challenge for chopper builders such as Dixon is that Honda and Harley-Davidson have entered the chopper market — sort of, at least.
Two years ago, Harley introduced the Rocker, a raked-out, chopper-looking motorcycle that started at $17,295. And in 2009, Honda introduced the 2010 Fury, which has the V-Twin engine that looks like a Harley motor, plus lengthened front forks. The Fury starts at $12,995, and Honda offers about $3,000 worth of options and accessories.
Bikes like those, Dixon says, are merely amusing to dedicated chopper riders. "[They've] been trying to look like us for years, copying the look, the sound, everything. Honda will sell as many Furys that all look alike to anyone who buys them."
And they are selling, says Kirby Mullins, owner of Seminole PowerSports, a Honda dealer.
"Its heck of a buy for $12,995," he says, "and you have Honda reliability and a warranty backing it up."
Also, the wheelbase of the Fury — the distance from the center of the rear wheel to the center of the front wheel — is just short enough so that many insurance companies don't consider it a true chopper. Insuring a chopper, Mullins says, can get expensive, largely because many of them can't be repaired easily with off-the-shelf parts.
Mullins agreed that the motorcycle market in general — the chopper market in particular — is going through some tough times.
"I've never really understood the chopper market," Mullins says. "It seems like a lot of people have spent $30,000 or $40,000 on a custom chopper, then a year later, they're trying to sell them for $15,000."
"It's like the boat market," Dixon says. "No one really has to have a boat, unless you make your living fishing. And no one really has to have a chopper."
But some people want one anyway, and for those customers, the door is still open, the lights are still on at Central Florida Choppers.
California Motorcycle Accident Attorney and California Biker Lawyer Website