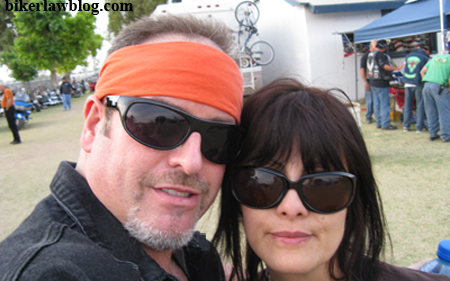 *** 4/21/10 Update – See the Short Video Below!
Living in Southern California we are blessed with year round riding. However, when April comes along there are several west coast biker rallies that take place every year. The Yuma Prison Run is one of those rallies. This is my review of this years rally.
This year the Yuma Prison Run was scheduled for the weekend of April 16-18, 2010. You can check out the Yuma Prison Run website by clicking here now.
The Yuma Prison Run is put on by the Norwalk Motorcycle Club, and has been an ongoing charity event since 1961; two years before I was born! The run is in Yuma, Arizona, and is located at the Yuma County Fair.
I decided to ride to this rally months ago. The rally location is approximately 300 miles from my home one way, or around 600 miles round trip, not including the miles I put on at or near the event once I get there. I consider this to be a medium distance sleepover run.
If any of you have read my blog, you will see many articles where I mention my fiancé. Well since we got married on January 31, 2010, she will now be referred to as my wife. I am still getting used to saying it! We have been together for 9 years, but wife is a new term in my life.
As usual, I started getting anxious and excited the night before we took off for the rally. I have been riding for many years, but it does not matter. Any of you who ride like I do know exactly what I am talking about; biker rallies are analogous to going to an amusement park when you are a kid.
There are not too many things that adults can look forward to that are fun and exciting like a good old fashioned biker rally. Unlike vacation travel, riding to a biker rally is different. It involves physically getting on your motorcycle and riding to and from the event. It is a much more involved and physical experience than just jumping on a plane and going somewhere. I am not going to even mention the ubiquitous trailer queens who don't actually ride to an event; they are not worth mentioning!
My wife and I packed up my Harley Davidson Electra Glide on the Thursday before the Yuma Prison Run. The Harley Davidson hard saddle bags and tour pak really makes it much easier to pack up and go then in the past where I have had to squeeze everything for two into special motorcycle travel luggage. (Which I still have)
Since this is a 3 day, 2 night rally we try to pack as light as possible. As usual, I had reservations at one of the two Motel 6's in town. Motel 6 is set up with laundry rooms, so worst case scenario; you can wash your clothes if you have to. What this means is that you do not have to pack as many clothes, which saves room on the motorcycle.
Hell if you are like me and are toting along your wife, you will need the extra room, because she will use it up 🙂
Basically we had the motorcycle mostly packed up on Thursday night, the day before we left.