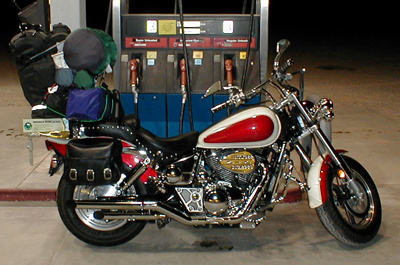 I have been a serious long distance motorcycle rider for many years now. You may ask what is a long distance motorcycle rider. To me a long distance motorcycle rider is someone who rides 800 or more miles on a motorcycle trip multiple times a year.
So according to my definition, even a first time rider who does a few 800 mile or more motorcycle trips per year would qualify as a long distance motorcycle rider.
I regularly do trips of 1000 miles or more like they are no big deal.
I know many guys who are bikers, and what some would consider to be hardcore bikers, that literally do nothing but bar hop on their motorcycles. To them doing 300 miles in a day is unheard of. Further, many of these guys have motorcycles that are in no way set up to do any serious mileage.
Most of these guys do not have saddle bags, and brag about how they do not need wind screens.
I am not going to knock these guys that are basically local bikers, but they really have no clue what it is like to be a long distance biker.
There are also what I call your ubiquitous trailer queens. These are guys that trailer their motorcycle to events, and then unhook them and ride at the actual event, making it appear that they rode to the event. This article not about packing up your car, it is about packing up your motorcycle.
Unless you are doing an Iron Butt Ride which is 1000 miles in a 24 hour period, (basically nonstop riding except to stop for gas and quick meals) a 1000 mile or more motorcycle trip will be a trip that is at least a 2 days or more.
I have done runs that last a week or more.
The big issue for me on long distance motorcycle trips is; what should I carry on the trip, and how should I carry what I need on the trip.
For me what to carry with on long distance motorcycle runs is almost automatic. I carry:
Water
Sunscreen
Flashlight
Small Tool Kit
Knife
1 Quart of Oil
Flare
Lighter
Sunglasses, and clear night glasses
Warm weather and cold weather gloves.
Leather Jacket
Leather Chaps
Spare clothes
Tennis Shoes
Emergency Contact Form
Cell Phone
GPS
Fine cotton cloths
Spray Wax
Plexus windshield cleaner
And whatever else I may need.
When I go on long distance motorcycle runs at least for the past 11 years or so, Elizabeth has been with me. Therefore inevitably, I also have to carry her purse, gloves, jacket, chaps, and whatever else she might want to bring as well which always includes her makeup and cloths.
In the past when I just had a softail or regular large cruiser motorcycle and no bagger, (see the picture above, the motorcycle is packed up to the brim, with tents, chairs, and everything for a full motorcycle rally.) my solution to accommodate all of the stuff that I like to carry, was to first to buy soft saddlebags, or a locking rigid saddlebag system, install a luggage rack behind the sissy bar, and buy a T-Bag soft luggage system that sat on the luggage rack behind the sissy bar, and then secured around the sissy bar.
The locking saddlebag system, called Leatherlykes Bags, was better than soft saddle bags, because they were bigger, and  I could lock the bags and walk away without worrying about being ripped off.
I used the soft T-Bag motorcycle luggage system on a couple of my motorcycles. After a few years, I switched from the T-Bags, to something called the Kuryakyn Full Dresser Bag, when they first came out. This bag had a rigid plastic shelving system in it, held more stuff then the T-Bags, and actually looked better as well. Not only that, but it had a wheel system on it like conventional luggage so when I got to a destination, I could lift it off, and wheel it in.
I used this system a few times on my FLHT Electra Glide Standard when I got her, but once I put the removable Tour Pak on; there was no room for the Full Dresser Bag.
For 6 years with the Electra Glide we would use plastic bags to fill up the side hard Harley Davidson Saddle bags, and the Tour Pak. We would also utilize the luggage rack on top of the tour pak to bungee tie our leathers as necessary.
I eventually went back to T-Bags and got a Dakota bag which is specifically designed to fit the premium luggage rack on a Harley Davidson Electra Glide Tour Pak.
The Dakota Bag is so big, that it pretty much holds everything we need. Obviously there are some items that will not fit in the Dakota, so we continue to keep small plastic bags in the hard side saddle bags.
The Future
Liz and I are talking about riding cross country this summer. I figure on a cross country run we are not going to want to have to constantly lift the Dakota Bag off everytime we stop, and we are not going to want to have to park in a place where we can see the bike everytime we stop so someone does not rip off our Dakota bag.
So after doing some research, I have found a motorcycle tow behind cargo trailer solution that I may purchase and use for our cross country trip on the Electra Glide.
I can get a cargo trailer that holds anywhere from 18 cubic feet of stuff, up to 25-26 cubic feet depending upon how much I want to spend, or how big I want the trailer to be.
I would need to install a motorcycle ball hitch onto my motorcycle for the trailer to hook onto, and rig up a wiring harness for brake and signal lights on the trailer.
It looks like there are many off the shelf trailer solutions for my Harley Davidson Electra Glide.
A cargo trailer at least to me would be the optimum way to travel cross country on a motorcycle, because we can just throw everything we want to take in the trailer, plus there will be room to store souvenirs if we decide to buy any along the way.
The trailer will take away the fun of trying to cram everything into a few small spaces on the motorcycle.
Even with a full Harley Davidson Electra Glide Custom Ultra, things can get tight real quick.
On a cross country trip I want to be able to enjoy the ride and the sights, without worrying about having to wash clothes every couple of days on the road.
There are many out there that say towing a cargo trailer behind a motorcycle is dangerous. Based upon my research, it can be done safely so long as you get used to it and take it easy just like anything else.
In closing, I have found that rigid saddlebags, a nice luggage rack mounted soft or rigid motorcycle luggage system, tour paks, and cargo trailers, all will allow you to carry the things you need on a long distance motorcycle run. What you do is really up to you.
Keep Both Wheels on the Road.
By California Motorcycle Accident Attorney, and Biker Lawyer, Norman Gregory Fernandez, Esq., © November 13, 2011