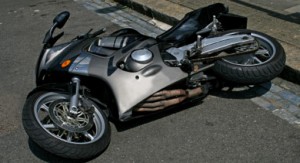 ** December 19, 2011 Update: I regret to inform you that David Landowski the rider of  the motorcyle, age 53, died of his injuries Sunday night. May he rest in peace.
The following news was reported today as a short blurb in the press.
Northridge – California A motorcyclist suffered severe injuries during a two-vehicle crash in Northridge, California police said today.
The traffic accident occurred about 6 p.m. Friday at the intersection of Lindley Avenue and Rayen Street, according to the Los Angeles Police Department's Valley Traffic Division.
According to police, Charles Giarratana, 62, driving a red Ford Explorer northbound on Lindley Avenue made a left turn onto Rayen Street where he struck David Landowski, 53, who was going southbound on Lindley Avenue on a white and purple-colored KTM 620SX motorcycle.
Landowski, a resident of Canyon Country, was transported to an area hospital with severe injuries. It was not immediately known if Giarratana, a resident of Reseda, was cited or arrested. Anyone who saw the traffic crash was asked to call the LAPD's Valley Traffic Division at (818) 644-8036.
The only people who would probably read and care about news such as this are people that ride motorcycles, their friends and family, and the people in the article.
It is doubtful that average people would even read let alone care about a man on a motorcycle being hit by a negligent idiot in an SUV.
For me, a California Motorcycle Accident Lawyer and an actual motorcycle rider, this article brings forth many thoughts.
The vast majority of motorcycle accidents on city streets are caused by some idiot making left turns in front of or into a motorcycle rider because they do not look for motorcyclist, they do not see the motorcyclist, or they think they can beat the motorcyclist before they turn.
The innocent motorcyclist may not even see the negligent driver making the left turn until they are right in front of them, or not at all.
Their life is changed in an instant.
I wonder if David Landowski riding his KTM 620SX motorcycle saw Charles Giarratna turning before he hit him? I wonder if Charles Giarratna has any clue what damage he has caused to the life of David Landowski simply because he did not look before he made the turn, or tried to turn before David rode past him?
Either way one thing is certain, David Landowski's life will never be the same again.
The newspaper article stated that David Landowski was transported to the hospital with severe injuries. I pray for him and his family that he will survive. If he does survive he will probably suffer months or even years of excruciating pain, loss of enjoyment of life, and emotional distress, not to mention loss of income, a career, or a job, tremendous medical bills, and maybe not ever being able to return to a normal life.
Some riders such as David will never be able to ride a motorcycle again, some lose limbs, some suffer permanent debilitating injuries, and some never recover.
So the next time you read a little news blurb about some idiot making a left hand turn in front of a motorcycle rider and hitting him or causing the motorcycle rider to hit the car or truck because the car turned in front of the motorcycle, think about the fact that the motorcycle rider's life was changed in an instant.
There is tremendous human pain and suffering, support to family lost, and life's irreparably harmed in such little news blurbs.
The next time you are out riding in your car, SUV, truck, etc., look for us motorcycle riders. You do not want to have the thought of destroying someone's life on your conscious.
By Biker Lawyer and California Motorcycle Accident Attorney Norman Gregory Fernandez, Esq., © December 17, 2011