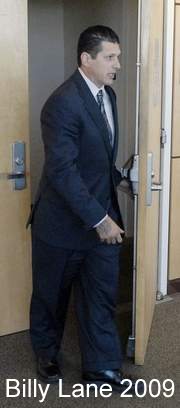 *** 10/25/09 Update – The Judge has rejected this motion. I guess you cannot blame someone for trying to get out of jail right?
Imprisoned celebrity motorcycle builder Billy Lane wants a judge to give his fatal crash victim's family another chance to say what kind of punishment he should receive, in hopes of getting his six-year prison sentence reduced.
Lane, 39, was sentenced in August to six years in prison after pleading no contest to one count of vehicular homicide for crashing his pickup truck head-on into 56-year-old Gerald Morelock's motorcycle while speeding past slow traffic in a no-pass zone on Sept. 4, 2006.
During sentencing, the victim's brother and nephew declined to recommend a punishment, but asked the judge to impose a sentence that would use Lane's celebrity status to help save the lives of young people through a foundation they plan to create in Morelock's name.
However, Lane's attorneys recently filed a motion claiming the men have since expressed that intense media and public scrutiny caused them to be "vague" about their feelings on a prison sentence for Lane.
"They were sufficiently overwhelmed by the experience that they did not fully express their feeling that Mr. Lane would better be able to benefit society if he were not incarcerated," the defense motion says.
The attorneys want Circuit Judge Robert Burger to give the Morelocks another chance to be heard and to reduce Lane's sentence if he sees fit.
No hearing on the motion has been set.
I must admit, this is one of the most bizzare defense motions I have ever heard. If it is granted I will be shocked.