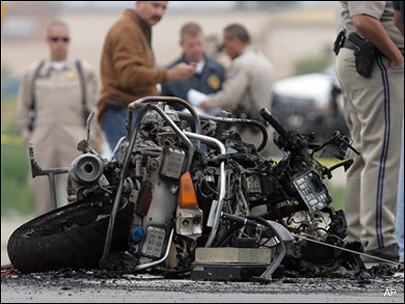 A California Highway Patrol officer was hospitalized with major injuries Tuesday afternoon after he was knocked off his motorcycle by another driver during an attempted traffic stop on the 134 Freeway, according to a CHP traffic report.
Officer J.D Fields, 59, an Altadena resident, suffered a broken femur and wrist after the accident, which occurred around 1:40 p.m. near the intersection of the 134 and 2 freeways in Glendale.
Fields had seen a vehicle pulled over on the side of the road and moved into the right lane, put on his lights, and slowed down to approach the car.
A woman driving a 2010 Nissan vehicle was behind him and failed to see him slow down, according to the report. She veered quickly out of the lane and then "for unknown reasons," moved back into the right lane and hit Fields' motorcycle, the report states.
Fields was thrown from the motorcycle and onto the road. He was transported to the Huntington Hospital shortly after the accident.
The cause of the collision is still under investigation, according to the report.
This crash brings to mind a safety feature for motorcycles that I think should be implemented; a brake light that triggers with sudden deceleration of a motorcycle.
Let me explain. We, who ride motorcycles, tend to downshift to decrease our speed on most if not all occasions, before we hit the brakes.
If a car traveling fast behind us, does not see brake lights when we downshift to slow down, they do not know we are slowing down, and they rear end us.
I think that is exactly what happened in this rear ender of Officer Fields.
I have been on rides and seen motorcycle on motorcycle rear end collisions due to the same reason.
If there was a sudden decoration device on our motorcycles that triggered the brake light, I think we could save many a biker and motorcyclist lives.
For you inventers out there, maybe you can come up with something. Maybe a device like this should be mandatory for motorcycles.
It would appear that Officer Fields in the accident mentioned above, not only has a Workers Compensation case against the California Highway Patrol, and a separate Personal Injury case against the woman who hit him from behind.
The law in California is that a person driving behind another person, has a duty to maintain a safe distance from the car or motorcycle in front of them, so they can stop in case the vehicle in front of them stops. It appears that the woman is at fault in this case.
If you or a loved one has been involved in a motorcycle accident anywhere in the State of California, call the real California Biker Lawyer Norman Gregory Fernandez for a free consultation at 800-816-1529 x. 1.
By California Motorcycle Accident Attorney, and Biker Lawyer