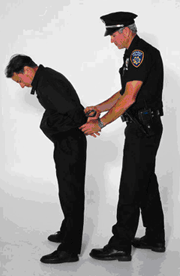 The following is directly from a press release from the Anaheim Police Department. It was not written by me.
### Beginning of Press Release.
The Anaheim Police Department host a total of 6 Sobriety and Drivers License checkpoints, starting with one on Harbor Boulevard near La Palma Park on Saturday, October 17, 2009 from 8:00 PM to 3:00 AM Sunday, October 18, 2009. In addition to checking for DUI drivers, officers will be checking those driving with suspended licenses. Safe driving pamphlets will be handed out to drivers screened at the checkpoint. Checkpoints are designed to bring DUI awareness to the most number of drivers.
The Anaheim Police Department has been awarded a DUI enforcement and awareness grant to combat DUI for a total of $205,115. Funding for this program is provided through a grant from the California Office of Traffic Safety, through the National Highway Traffic Safety Administration. This funding will supplement the departments' overall commitment to lower DUI related traffic collisions. These additional monies will fund additional sobriety checkpoints, DUI patrols and other efforts to help bring about a zero level of DUI in the city of Anaheim.
The additional saturation patrols funded by the grant will increase the number of officers in the field to help assist the program "Report Drunk Drivers: Call 9-1-1". With the grant's funding, Anaheim Police will add 4 additional officers to the field nearly every weekend during the next twelve months. These additional officers will be able to respond quicker to 9-1-1 calls by those reporting erratic drivers on our streets. New this time is the addition of the OTS Motorcycle Safety Campaign.
The Anaheim Police will conduct four Motorcycle Safety and Enforcement programs over the next year. The department will take to the streets and focus on the motorcycle rider. Officers plan on working with motorcycle shops, clubs and dealers in the area to first educate the rider and then ensure they are in compliance with the law. DUI and the proper use of helmets will be the first on the list as these are the primary causes of death and serious injury to the motorcycle riding public.
For any media questions, contact Sergeant Rick Martinez at (714) 497-6608 or email him at Rmartinez@anaheim.net
## End of Press Release.
Notice the part about the motorcycle safety and enforcement programs. It looks like the writing is on the wall in Anaheim and they are going to start rousting bikers, motorcycle riders, and shops. If this occurs, I say boycott Anaheim. We have a right to be on the street too.