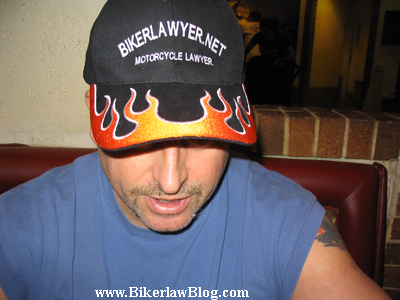 As I type this article I am thinking about the many motorcycle accident victims, the motorcycle passenger accident victims, the car accident victims, the truck accident victims, the slip and fall victims, and other personal injury victims whom I represent all over the State of California.
The life of a personal injury attorney is not easy, especially when you care about your clients.
I just got back from Redding, California where the deposition of one of my motorcycle accident clients took place. His life has been utterly devastated by a rear ender motorcycle accident. As a fellow biker I truly feel for him. I saw the tears well up in his eyes as he described how the motorcycle accident ruined his life in the deposition.
In the San Francisco airport on the way home, I spoke to the brother in law of a man who was killed while riding his Honda Goldwing, when a woman decided to turn right in front of him. His family is devastated. All he was doing was riding his motorcycle.
As I got in my car at the Los Angeles International Airport, I was informed by my staff that we finalized a very large settlement for a client who suffered massive injuries when a cager turned in front of his motorcycle in the San Fernando Valley.
While sitting in traffic on the way home after hours, I consoled a client who was massively injured in another motorcycle accident in the San Francisco Bay Area.
In my firm the above is the tip of the iceberg and only describes a little about what I do on a daily basis.
My job and my career as a personal injury attorney is to help those who are injured, and those whose family members have suffered a wrongful death. I help people on a daily basis.
While most people celebrate the holiday's and are oblivious to the suffering of some, there are many out there who are not so fortunate.
I would like to send prayers out to all of my personal injury clients during this holiday season. This may sound corny, but I feel your pain, I suffer with you, I will endeavor to see that you get the very best medical attention; I will do everything in my power to get you the compensation you deserve. You are not alone.
Happy Holidays from the Law Offices of Norman Gregory Fernandez & Associates