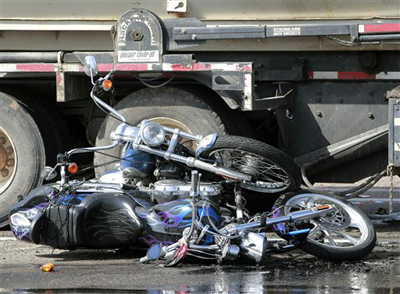 The dump truck driver responsible for the deaths of four motorcyclists in a horrendous rear ender crash in Arizona has been arrested after toxicology results found methamphetamine was in his system on the day of the crash.
46-year-old Michael Jakscht is being charged with 4 counts of manslaughter, 5 counts of aggravated assault, and 7 counts of endangerment. He is being booked into the Maricopa County Jail.
Phoenix Police say that Jakscht was driving the truck that plowed through a group of eight motorcycles stopped at a red light at Carefree Hwy and 27th Ave back on March 25.
Three men caught under the truck and dragged were killed almost instantly. They were 67-year-old Clyde R. Nachand, 35-year-old Daniel L. Butler, and 52-year-old Stephen Punch. A female driver, 47-year-old Dayle Veronica Downs-Totonchi, died the next day from her injuries.
Phoenix Fire Captain Ernie Lizarraga was also one of the several victims seriously injured.
Officers arrested Jakscht Tuesday in the area of Highland and State Route 51.
Jakscht was being watched at his residence in Scottsdale. The surveillance team saw him leave and he was stopped by officers who observed impaired driving behavior.
Jakscht has been under surveillance ever since the fatal crash, as police waited for toxicology test results. The test results were completed in record time and illegal drugs — methamphetamine — were found present in Jakscht's system, according to police.
Crime lab tests usually take between 4 to 6 weeks, but police made this test a priority and it was completed in two.
There are possible charges pending for impaired driving.
The accident is still under investigation.
I cannot believe that Arizona waited so long to arrest this guy.