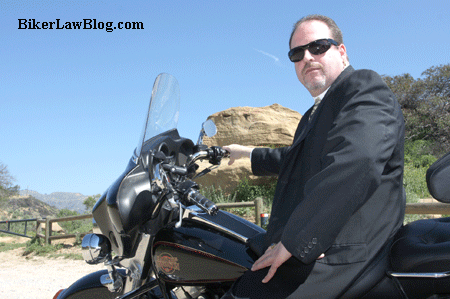 Are there any real biker lawyers out there beside myself?
When I look at the Internet I see a bunch of pasty face lawyers and attorneys in suits claiming that they are motorcycle injury attorneys. Some are well known so-called motorcycle attorneys who advertise in a bunch of motorcycle publications, and even set up booths at events.
I know one up and coming so-called motorcycle attorney outfit that is nothing more than a marketing franchise scheme aimed at bikers and motorcyclist like you.
Hell, they advertise on TV, and they are all over the Internet representing themselves as biker lawyers.
When I contacted them to find out what they were about, they sent me marketing literature. Basically if you join their outfit and pay a fee, you too will be a real biker lawyer. They have a nationwide marketing campaign going right now which is targeted at bikers and motorcyclist. What a joke!
Let me ask you a question. Would you really want to hire a motorcycle injury attorney from an outfit that is nothing more than a marketing scheme directed at you?
Some months ago a few of us so-called "biker lawyers" were in an article in the Los Angeles Times discussing what is what like to be a biker lawyer.
One of my competitors admitted in the article, that he did not ride "because he wanted to grow old to see his grandchildren." There was another attorney mentioned in the article, who I have never heard of before the article, who had recently starting working for the same firm of the guy who admitted that he did not ride, stating that he recently actually started riding, and that he recently started doing motorcycle accident cases; isn't that grand.
Hell at least I give them a little credit for having an employee attorney who actually started riding a Harley Davidson Sportster right before the article came out.
Hell this firm advertises nationwide in many prominent biker rags. If you were to read their advertisements you would think that these guys are the baddest biker lawyers in town. I challenge them to ride with me sometime here in California. It would be nice to actually meet another attorney who rides motorcycles.
Geez would you want an attorney who is great at advertising, but who does not ride because "they want to grow old to see their grandchildren" representing you in your motorcycle accident case? Do you think that this guy actually respects you and your right to ride?
The reporter from the Times gave me a sentence or two credit in the article, notwithstanding the fact that she interviewed me for about an hour.
I thought it was amusing that the majority of the article was spent giving lip service to attorneys who don't actually ride motorcycles, except for the one junior associate I mentioned above, who had just started riding motorcycles.
I challenge any of the so-called local California Biker Lawyers and Motorcycle Accident Attorneys who advertise anywhere in California to join me on a ride. The reason why I am issuing this challenge is because I believe that maybe only a few of them actually ride motorcycles if any do at all.
I do know of some lawyers nationwide who do actually ride motorcycles. One of them from Southern California who rides, does not do motorcycle injury accident cases.
There was an actual Superior Court Judge based in San Bernardino who actually rides motorcycles. He is, or was a Judge, I am not sure of his status now, but he does not advertise as a biker lawyer who handles motorcycle accident cases.
There is an attorney; his name is Jeff who lives in Korea, who rides. I met him through this Blog, the Biker Law Blog.
I know that there are lawyers out their sprinkled around the good old USA that ride motorcycle, but believe you me; they are the exception and not the rule.
In my personal opinion, I think that a law firm, or someone who advertises that they are "the best" motorcycle accident attorney," or that they are "attorneys who ride," or that they are "motorcycle accident experts," etcetera, etcetera, should put their proof where there mouths are, or stop the false and misleading advertising.
I put my proof on the road on a daily basis. I do not make untrue claims about being a lawyer who rides; I am a lawyer who rides.
My firm has helped many bikers and motorcyclist in their time of need after a motorcycle accident. My client's know I am a biker and motorcyclist just like them. When they talk to me, they are talking to a fellow biker and motorcyclist, not some attorney who advertises to them like they are a niche market.
Do not fall prey to slick advertising campaigns, or firms that are flat out misleading you into thinking that they are real bikers and motorcyclist only to get your business, when they are not bikers and motorcyclist who actually ride.
It is one thing to be a generic personal injury attorney who handles motorcycle accident cases, and another thing to flat out lie about being a biker and motorcycle rider only to get business, and to get real bikers and motorcyclist like you to sign up with them.
As I have stated many times, a generic personal injury attorney is at a severe disadvantage handling motorcycle accident cases, because they do not know the intricacies of riding a motorcycle, the very real dangers that bikers and motorcyclist face on the road when they ride, or how to deal with the prejudice that bikers and motorcyclist sometimes face, because they themselves have never had to personally deal with them.
You would not want to go to a general doctor for an orthopedic operation would you? So why would you go to a generic personal injury attorney instead of a real biker and motorcycle accident attorney to handle your motorcycle accident case?
So there it is. If you are a motorcycle accident victim, you need to do your due diligence when picking an attorney and lawyer to handle your motorcycle accident case.
If you see a slick advertisement from someone claiming to be a biker who rides, or who claims that they are the best motorcycle accident attorney, or that they are attorneys who ride, or someone who poses next to a motorcycle in a picture or advertisement, ask them a few questions about riding, particularly, when was the last time they rode!
You should know after a few questions whether they are bullshitting you our not.
My name is Norman Gregory Fernandez, and I am a real California Biker Lawyer, who handles motorcycle accident cases. Yes, I actually ride.
Then again, if you are anywhere in California, you can just call me. I will take care of you if you have a good case. Call me 7 days a week, 24 hours a day at 800-816-1529 x. 1.
If I agree to take your case, and you decide to retain me, I will send my people out to sign you up, so that you do not have to come into our offices.
We will handle your motorcycle property damage claim part of your case for free, unlike other attorneys who may charge you an administrative fee, or even a percentage of the amount of property damage.
I know attorneys who charge a fixed administrative fee to handle property damage. I will never take a dime of money to help you get your motorcycle repaired or totaled, if you retain me for your injury case.
We not only do not do that, but we think that it is wrong for a lawyer and attorney to take any part of the property damage claim in a motorcycle injury case.
If you are one of our clients, we will not only do the property damage part of your case for free; we will also do the following;
We will arrange to get you medical care, even if you do not have medical insurance, as part of your overall case.
We will help you to get a rental car if you are stuck without transportation.
We will help you to get a handicap placard for your vehicle so you can park in handicapped spaces while you are recovering.
We will help you to get a cash advance on your case with a 3rd party company if you are unable to work.
We will fight to get you everything that you are entitled to in your case such as loss of income and future income, medical expenses and future medical expenses, pain and suffering, loss of enjoyment of life, emotional distress, loss of use of your motorcycle, and any other out of pocket expenses related to your accident.
We will also fight to get your spouse a recovery for the loss of consortium related to your motorcycle injury accident.
Hell, we even make ourselves available to our clients after hours and on the weekends when necessary.
We are not bankers and do not keep bankers hours. We work when necessary, not by arbitrary hours like some other attorneys!
We will go that extra mile for you in your case.
There is a reason why many bikers, motorcyclist, motorcycle club members, and others come to me for representation on their California cases; and it sure is not because of my slick advertisements.
By California Motorcycle Accident Attorney and Biker Lawyer Norman Gregory Fernandez, Esq., © 2010