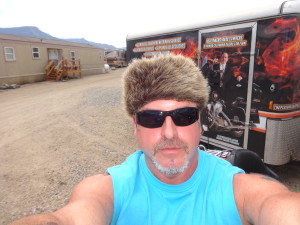 I have been a personal injury attorney for almost 20 years. I have been riding motorcycles over 40 years. The one thing I can say for certain is that a motorcycle with 2 wheels, has much less traction than a car with 4 wheels.
Further, a motorcycle wheel has much less traction than a car wheel, because the motorcycle wheel is rounded, whereas a car tire l is flatter and has more area of rubber on the pavement.
With that being said, it's very important for motorcycle riders to not tailgate, and to keep a safe distance and speed from the car in front of them, so they can stop in case the car comes to a sudden and unexpected stop.
I know of many instances where individual riders, groups of riders, and even motorcycle clubs have had mass accidents, because the people in the front are tailgating or riding to close to the cars in front, the car suddenly braked, causing a chain reaction crash.
I just gave a consultation to a gentleman who in his mind thought he was not at fault, when he had to lay his motorcycle down on a freeway on-ramp because the car in front of him came to a sudden stop.
Apparently there was a crosswalk on the on-ramp, and a pedestrian was within 20 feet of the crosswalk when the car stopped. In the biker's mind, the car should not have stopped for the pedestrian. It never occurred to him that he should have kept a safe distance from the car in front of him so that in case the car stopped he could stop.
I had to tell him that it was he, the motorcycle rider, that was at fault in that instance.
Not only do motorcycles take more time to stop in an emergency situation than a car because of less traction area on the pavement, but the consequences of crashing can be catastrophic to motorcycle riders.
Basically it's not worth your life. I know guys who tailgate when they ride. It drives me crazy to ride with these guys, and I absolutely will not stay with them, I will stay back so that in case the cars brake they're going to eat the back of the car not me.
Ensure that you keep a safe distance and speed from the car in front of you, and anticipate that the car may slow down or suddenly stop. If you ride with this in mind you will be a safer motorcycle rider.