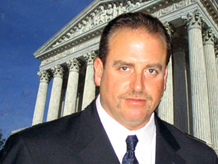 As all you Californians know, we have had a series of bad storms over the past week. Now this is nothing new to Northern Californians, but Southern Californians are definitely not used to the rain and snow.
There have literally been hundreds of car, truck and other motor vehicle accidents over the past week all over the State of California. Everybody is blaming the bad weather, but in 99% of all cases, the fault is on drivers who were not being careful while driving in the bad weather.
Everyone needs to be careful out there on the roads. I flew in to Los Angeles International Airport last night from San Francisco. Although it was not raining in Los Angeles, the traffic was horrible because of the rain earlier in the day. There were still your ubiquitous assholes on the road, not letting people switch lanes, tailgating, driving recklessly, you name it.
To protect yourself against the bad drivers you need to make sure that you have uninsured motorist coverage and under insured motorist coverage in a decent amount to protect yourself against these bad drivers with bad insurance.
If you are hit, the first thing you need to do is make sure you get a police report, go to the emergency room if you need it, and call me for a free consultation on your car, truck, or any other motor vehicle accident, anywhere in California, at 800-816-1529 x. 1. As all of my clients all over the State of California know; I am an attorney that cares about my clients. I will do what I can to take care of you.
By California Accident Attorney Norman Gregory Fernandez, Esq., © 2009