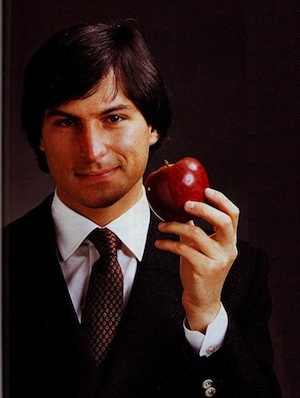 Yesterday's news that Steve Jobs passed away brought back memories to me that I have not thought about for many years.
You see, almost 30 years ago, I met Steve Jobs at Apple Computer in Cupertino, California.
In what seems like another life ago, in my first career as an Engineer, I was at the age of 21, a Senior Field Engineer working for a company called Micom Systems, whose corporate headquarters was in Chatsworth, California.
As part of my promotion to a Senior Field Engineer in 1983/84, I was relocated up to Menlo Park, California to start up, and head up the customer service operations for Micom Systems in the San Francisco Bay Area.
Although I was primarily relocated to exclusively handle NASA Ames Research Center in Mountain View, California, I was also responsible for all service operations in the Bay Area, including Silicon Valley.
My job included installation engineering, training, and maintaining complex data communications networks for what was a who's who of corporations, governmental entities, and the military.
My company came out with a new device called the 470, T1 multiplexor.
This device was basically a time division multiplexor that integrated up to 128 asynchronous channels running up to 19.2kbps, into a proprietary 819.6kbbps composite link, and then DE multiplexed them out on the other end of the composite link. (See the picture below)
Although this multiplexor was not really a true T1 multiplexor, (true T1's run at 1.544mbps) it was a major innovation in its day.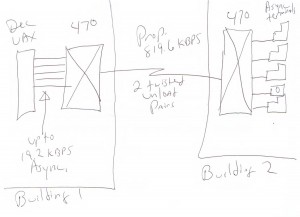 Many Micom customers purchased the 470, and it was my job to figure out how to get it operating.
One day in 1984, I was notified that Apple Computer had purchased the 470, to connect its Dec Vax computers in its Cupertino data center, to asynchronous dumb terminals in another Apple building in Cupertino.
When I got there in the day to do a walk through, I noticed the reserved parking spaces of Steve Jobs, and Steve Wozniak, the co-founders of Apple Computer.
I went in and met my contact whose name I cannot recall after all of this time.
After looking at the job, I informed my contact that since we would have to disconnect existing multiplexed connections to connect them to the new 470, that the best time to do the job would be at 2am in the morning, when everyone had gone home. He agreed.
After our meeting, my contact asked me if I wanted some Pizza; I said sure. He walked me into a conference room where a bunch of cool looking people were eating pizza. He introduced me to everyone. Mind you, I was 21 years old, and basically a geek like everyone in the room.
A guy with long hair, who did not seem much older than me came up and introduced himself to me. He said, "Nice to meet you Norm, my name is Steve."
Mind you there was a bunch of people in the room gobbling up pizza. I was the only guy in the room with a tie on. I met a bunch of people in the room and did not think much of Steve when he introduced himself to me.
Like everyone else I gobbled up Pizza. I did notice that Steve kind of controlled the room, meaning everyone was paying attention to him. I myself was looking at this really cute looking blond gal who turned out to be a receptionist.
When we left the room, my contact said to me "Do you know who you just met?" I said "who?" He said "Steve Jobs one of the founders of Apple Computer."
I was blown away. I could not believe I met Steve Jobs, I could not believe that I did not recognize him, but I was glad that I did not know who he was. It meant that I interacted with him as a normal guy instead of a celebrity type of thing.
The installation at Apple turned out to be a nightmare from hell.
To make a long story short, we spent no less than a week straight, every night at 2am working until 6 or 7 in the morning to get the new network working.
Each night, I made it a point to park in Steve Job's parking space. Hell, he was not there anyway at that time of night. I thought it was a gas.
One night I brought my girlfriend in (she later turned out to be the mother of my daughters) to watch us work.
My contact took my girlfriend and me over to a bench and told her that she could play with the new computer on the bench. It turned out to be one of the first new color Macintosh computers that was ever produced. Hell I wanted to play too, but I could not.
No matter what I did, I could not get the multiplexors to sync up. The composite link required 2 twisted pairs with no loading. I took an oscillator and set it to transmit a 1Kilocycle frequency at 0DB, and then went to the other side and measured the DB loss. I was getting something like a 30 DB loss through the wire. I knew something was wrong.
My contact called up Pacific Bell and was finally told that there was a parallel circuit running off our circuit to another building at Apple. We were told where it was. I took a 900 ohm resister and punched it across tip and ring to terminate the circuit. I did this on both pairs.
Wholla, the multiplexors synced up, we were able to get the new network working, and I got an award from Apple Computer for my efforts.
Apple was supposed to provide me with two unloaded twisted pairs. It turned out that Pacific Bell Telehone gave them what we call two bridge tap circuits!
It was only because of my training in the Air Force in applied science and telephony that I was able to know what to do in this situation. This is why Micom gave NASA and the bay area to me at such a young age.
Frankly I was too young to appreciate where I was at the time, or what I was doing.
The reason why I have gotten a bit technical in the article is because I know Steve Jobs would have liked it like that, and because I know geeks like me who were pioneers of OSI networking back in the 80's and 90's will appreciate the detail. I still remember the RS232 interface as though it were the back of my hand.
Rest in peace Steve Jobs. You are one of those human beings that have changed the way many other human beings do things!
By California Motorcycle Accident Attorney, and Biker Lawyer, Norman Gregory Fernandez, Esq., © October 5, 2011