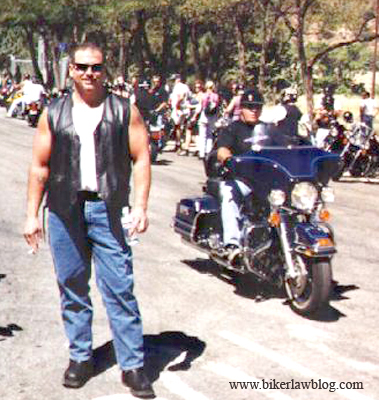 You may or may not have read about a certain motorcycle club having some legal problems lately. The government is trying to shut them down by seizing their patch and enjoining (preventing them through a restraining order) them from wearing it. This article is not about that club, but the legal issues in general.
Before I begin discussing this article I must state that I am not talking about any one motorcycle club or organization in this article, I am just writing in hypothetical's. For purposes of this article I will make up a motorcycle club called "The Elmer's MC"
Let's say hypothetically that the Federal Government alleges that The Elmer's MC is a criminal organization, and moves to seize club property under civil forfeiture statutes, because the property was used in the commission of a crime, or were gained from the fruits of criminal activity?
Can they do this? Yes they can. Is it an ominous trend? Yes it is. Has the government been seizing all sorts of private property under civil forfeiture statutes? Yes, for a long time. Do you ever really own property in the United States of America? Apparently not any more. The government can by a preponderance of evidence, basically take anything they want from you. We really in effect own nothing in the United States of America anymore, this is what is has come to.
Is a Federal Trademark or Copyright property that can constitutionally be seized by the Federal Government under civil forfeiture statues; that is the question!
My reading of the various statutes and case law involved leads me to believe that the government can in fact seize Federal Trademarks and Copyrights under the civil forfeiture statutes, because the Trademark and Copyright is in fact a tangible thing (property for the time you own it.) that can be assigned, and/or licensed for consideration. (Money, etc.)
Furthermore, as a valuable legal right that is analogous to property, it can arguably be seized just like any other piece of property.
Now let's say that the government now wants to get an injunction which prohibits The Elmer's MC from wearing its trademarked or copyrighted patch, because is has been seized by the government and is now government property. They probably could get an injunction under civil seizure and intellectual property law, but does this action violate our First Amendment Right to Free Speech. I would say that it does, and the right to free speech is a much more important right in this particular circumstance.
Let me explain. Let's say arguendo that The Elmer's MC is the most horrible and criminal organization in the world. Do we want to allow the government to be able to yank clothes off anybody that is wearing Elmer's MC apparel just because they are trying to shut them down?
What if the government decides that Walmart is a criminal organization? Are they going to be able to take Walmart shirts off of anyone that is wearing one? This idea is ludicrous and ominous. If we allow this to stand, the government will not only be able to take your property with a very minimal burden of proof, (preponderance of the evidence) but they will also be able to tell you what you CANNOT wear if they want.
Look, I am a law abiding guy, but I am also a United States Constitution type of guy. I hate the Nazi Swastika with a passion, yet under our constitution, the government cannot ban someone from wearing one even though it is despicable.
The Elmer's MC should be able to wear anything they want to wear so long as what they are wearing is not defamatory, it is not meant to incite an immediate riot or criminal activity, and it does not violate someone's civil rights, even if they are worst arch criminals of the world.
Why, because once you let the government take away a right they will take away 10. Soon regular Joes walking the street will be subject to this same horrible precedent.
Have we become that Police State that we all feared when we saw the movie 1984, are we are allowing are freedoms to be sucked from us? Yes.
It is my position that the government in this case has gone too far. No matter what The Elmer's MC did, the government should not have the right to tell The Elmer's MC members, or any member of the public what they can or cannot wear. The government's action should be held to violate the United States Constitution's 1st Amendment Right to Free Speech.
Yes, it can logically be argued that the government has the right to ban The Elmer's MC from wearing a seized trademarked or copyrighted patch under present law and precedent, but the argument that government should NOT have the right to tell us what we can and cannot wear does not really take much argument at all in a free society. In other words, the Right to Free Speech should take precedence over the civil forfeiture statutes, and trademark law in this particular circumstance. If we open up Pandora's Box, where will it end?
This precedent would allow the government to seize any trademark or copyright with a minimal burden of proof and without having to even try a person or organization for a crime, or prove that they are guilty of a crime. Is this the Untied States that our founding fathers envisioned? I think not!
Therefore I say to the government look; if the Elmer's MC or its members have committed crimes, then they should be held accountable in a Court of law in front of a jury of their peers. If they are convicted then punish them. However, this business of convicting an organization or its members in the media without a jury trial, and then preventing them wearing an item of clothes by going to a Judge for an injunction under civil forfeiture statutes, is flat out un American and wrong.
Many of you may be saying look; the Elmer's are a bad bunch and need to be punished. Trouble is what if you are someday falsely accused of something. I am not saying the Elmer's were falsely accused, I don't know. However, let's say it is you. The government than seizes your money so you cannot hire a lawyer to defend yourself, they then tell you that you cannot wear Levis because all members of your organization wear Levis, and then you plea bargain out because the public defender does not have the resources to defend you. How is this justice? Civil forfeiture statutes are just plain wrong even though they have somehow been upheld. The forfeiture should occur in a criminal setting with the same burden of proof as a criminal action.
The argument by the prosecutor against the fictitious Elmer's MC is ingenious. However, its effect would be downright un American.
Moral to the story……….. If you are a Motorcycle Club like the Elmer's, do not Trademark or Copyright your name and patch!
The biggest evils against man have or were justified under the premise of doing good. In the case of the Elmer's, they are probably no angels, but the rights you take away from them; you take away from all of us.
The rights given to us through the United States Constitution are meant to protect the few from the many, when the many want to violate our rights!
No Mr. Government, we don't want you to have the power to tell us what we can and cannot wear!
By California Biker and Motorcycle Lawyer Norman Gregory Fernandez, Esq., © 2008