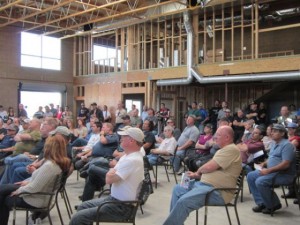 Motorcycle riders gathered on Saturday afternoon in Orange to hear safety tips from a former police officer.
Retired Orange police Cpl. Mark Camarillo led a seminar, "Smarter Safer Riding and How to Avoid a Traffic Citation," at Irv Seaver Motorcycles
About 100 people sat and stood inside the dealer's future service shop at 607 W. Katella Ave. for the seminar.
Camarillo told the crowd to use hard stopping, use common sense, to always use a turn signal, know the speed limit and also to ride defensively.
"I want to go home to my family every single night," Camarillo said.
He also told the motorcycle riders to hold with the speed limit – plus or minus 5 mph.
"I fight the urge to ride aggressively," Camarillo said. "It gives you time to react and time to stop. It's less stressful on yourself. (Speeding) creates stress you probably don't realize is happening to your body."
He explained riders – and drivers – should always look left, right and left again at every light.
"It'll save your life," Camarillo said. "It gives you a chance to look back. That is a crucial thing to do."
Since retiring from the Orange Police Department, Camarillo said he rides a BMW motorcycle and that people drive differently now that he's not on a black-and-white.
"I get tailgated now, and I never got tailgated before. I wonder why?" he joked with the audience.
Many audience members said they didn't know prior to the presentation that it was legal to turn left across a single double-yellow line, including Jennifer Chung and her son Kyle Tran, 15, of Westminster. The two were curious to listen to tips originating from a former police official. For Chung, riding is a family affair. She often takes her son on the back of her Kawasaki Ninja.
"A presentation such as this is always of interest to BMW drivers," said Larry Troffer of San Clemente.
"If there's anybody that can provide me some suggestions, I'm always interested," said Bill Reitz, president of the BMW Club South Coast Riders. The group boasts 99 members and holds meetings once per month followed by a 65- to 100-mile ride.
Camarillo also said the Ortega Highway is the deadliest route, accompanied by Santiago Canyon Road.
He told the target audience that driving on the line between the lanes – known as lane splitting – is unsafe but legal. He suggested driving only 10 mph faster than the speed of traffic when splitting lanes.
"If traffic is doing 30 miles per hour, should i split it at 40? Why? I'm not getting there faster," Camarillo said. "Everybody has to decide whether it is worth it or not."
Owners Evan and Lois Bell of Irv Seaver Motorcycles are bike aficionados. This year, they celebrate the 100th anniversary for the business.
"Our most wonderful vacations have been on motorcycles," Lois Bell said. The two have ridden through Europe, South America, South Africa, New Zealand, Ireland, Japan and Germany.
"If those individuals listened, it probably saved some lives," she said.
Motorcycle safety tips
•Use sound judgment.
•Drive the speed limit – plus or minus 5 mph.
•Practice hard stopping.
•Always use your turn signal.
•Avoid getting grease, oil or diesel fluid on your tires.
•Know the speed limits.