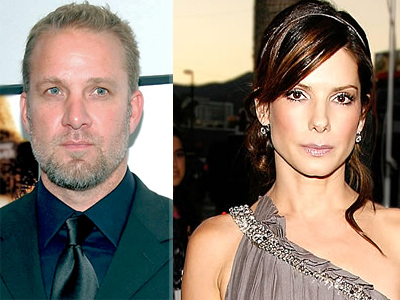 **** 4/28/10 UPDATE – Sandra Bullock has filed for divorce. What would you do if you found out your spouse was sleeping with multiple partners?
LOS ANGELES – California
At least three women have come forward claiming to have had an affair with Sandra Bullock's husband Jesse James, and a fourth is said to be considering her options.
Attorney Gloria Allred says she's representing the fourth mistress — "a beautiful model and business woman" who says she "had an intimate 3 year relationship" with James.
That relationship reportedly ended just weeks ago.
"He pursued her and he had strong feelings for her," Allred said in a statement.
According to Allred, "She is in the process of trying to decide if she will come forward."
Allred added that the woman has "hundreds" of texts, e-mails and photos to back up her story.
Tattoo model Michelle "Bombshell" McGee was the first woman to come forward alleging an affair with James.
Us Weekly reports that James, 40, would regularly post Internet ads looking for "hot, tattooed biker chicks with big boobs," and then invite the girls back to his West Coast Choppers bike shop in Long Beach.
James' infidelity has been an openly-known secret among employees at the bike shop, the magazine says, adding that James "gets bored" when Bullock is away.
A second woman, stripper Melissa Smith, has claimed she had a two-year affair with the celebrity biker starting in 2006.
Like McGee, Smith is heavily tattooed.
Smith has said that after she traveled to California to meet James, they began a sexual relationship that continued for two years.
A former high-level, female executive with the bike shop also settled a sexual harassment claim against James and West Coast Choppers for $725,000 in 2007, while he was married to Bullock, TMZ is reporting.
Gloria Allred, whose firm represented Deann McClung, is refusing to comment on the allegations.
McClung, who kept several suggestive emails, said that between 2006 and 2007, James repeatedly made sexual advances, which allegedly included sexual acts, the site reported.
TMZ reported that McClung also claims she kept a T-shirt with evidence of a sexual encounter with James.
McClung eventually quit and filed a sexual harassment lawsuit.
In the settlement documents, James reportedly neither admitted nor denied the allegations.
James apologized for using "poor judgment" and asked his family to forgive him following revelations by McGee that the two had a year-long affair while Bullock was away filming "The Blind Side."