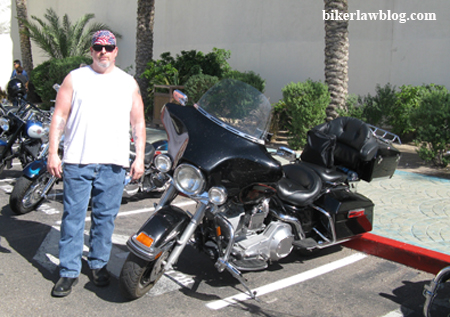 See Videos Below
Well the title says it all, my wife and I owe our lives to god after this years Laughlin River Run. I will explain below.
If you did not know it, it is said that the Laughlin River Run is the largest motorcycle rally in the western United States, and some people say that it is the second largest motorcycle rally in the nation next to Sturgis. It is a great time.
You can read an article I wrote about a previous Laughlin River Run that I did by clicking here.
This year's run began when we packed up my Harley Davidson Electra Glide to go to the Laughlin River Run 2010 on Friday, April 23, 2010.
Since I had to be in Court early Friday morning in Victorville, CA, we could not leave for the Laughlin River Run until Friday afternoon. Many of my friends left on the Thursday, the day before, but I could not go with them because I had to be in Court.
Therefore my wife and I planned on riding alone to Laughlin. By the time I did my pre-ride routine, and we got the motorcycle all packed up, it was very late. We did not get out of dodge until around 7pm; it was already dusk. I had to make a couple of stops along the way before we got on the road. Read the rest of the article below the videos.
By the time we hit the Pearblossom Highway, it was almost dark. We made good time to Victorville and onto the I-15 east. We stopped at Denny's in Barstow and had dinner because we knew we would not get into Laughlin until around 1am or so according to the GPS.
Once back on the road we made good time from the I-15 to the I-40 split. If any of you have ridden on the I-40 between Barstow and Needles, you know that this is amongst the most isolated and desolate places in the United States. This is the Mohave Desert and there is nothing there except Rattlesnakes, Scorpions, and a couple of gas stations along the way.
Continue reading "Lucky to be alive after the Laughlin River Run 2010; however, we still had a good time!"