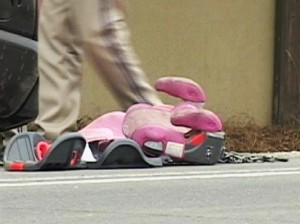 SALINAS, California – A 6-year-old Salinas girl was killed after her father attempted to chase down a pickup truck on Highway 101 in North Salinas that he thought had his stolen motorcycle in the back, investigators said Thursday.
Just before 4:30 p.m. Wednesday, Luis Armando Molina, 33, of Salinas, was driving a 2000 Chevrolet Suburban sport utility vehicle on Highway 101 when he spotted a motorcycle in the back of a pickup truck, investigators said.
Believing the motorcycle was his stolen bike, Luis Molina chased after the gray truck, California Highway Patrol Officer Robert Lehman said. Luis Molina's wife, three daughters aged 2, 5, and 6, and 10-year-old son were all riding in the SUV.
Dispatchers received 911 calls from motorists reporting two vehicles speeding recklessly on northbound Highway 101, Lehman said.
To catch up with the speeding truck, Luis Molina attempted to pass slower traffic by driving more than 60 miles-per-hour on the northbound shoulder, the CHP said.
He lost control and the SUV flipped near the Laurel Drive exit.
Xitlali Molina, 6, was thrown from the SUV.
Emergency responders who were first on the scene whisked the 6-year-old to Natividad Medical Center in Salinas, Monterey Sheriff Detective Kevin Gardepie said.
Despite surgeons' attempts to save her, Xitlali Molina's injuries proved lethal. The 6-year-old was pronounced dead at 5:07 p.m. in the emergency room, Gardepie said.
At the crash scene, a rumpled pink child car seat lay next to the wrecked black SUV Wednesday evening.
Xitlali Molina had been riding in the back seat of her father's SUV, the CHP said.
Investigators are focusing on determining if she was properly buckled in a child restraining seat before the collision, Lehman said.
Her 2-year-old and 5-year-old sisters were both properly buckled in child safety seats, and her older brother and parents had seat belts on, Lehman said. California law requires all children younger than 6, or weighing less than 60 pounds, to be secured in a child safety car seat.
Immediately after the crash, all lanes on Highway 101 northbound in North Salinas were shut down during the evening rush hour commute and traffic snarled for miles. The lanes were closed so that a CalStar ambulance helicopter could land on the highway.
The helicopter airlifted the driver's wife, Maria Molina, 32, of Salinas, to a Bay Area trauma center to be treated for moderate injuries.
Luis Molina and his other three children escaped the crash with minor injuries.
The pickup truck driver fled the scene. On Thursday afternoon, CHP officers were still searching for the driver and the gray Chevrolet pickup truck with tinted windows.
Xitali Molina would still be alive playing with her favorite princess dollhouse and riding her pink scooter if her father had not chased the truck, neighbors said.
"It's just sad. Especially if it's a little girl and she has her whole future ahead of her," neighbor Nick Mederos said Thursday. "One tragic incident and it's all over."
The father could be charged with reckless driving and vehicular manslaughter for the fatal crash. The Monterey County District Attorney's Office will make that decision once the CHP concludes their investigation.
Luis Molina has a criminal history, including five convictions for driving with a suspended license. He has also been arrested for past reckless driving and burglary.
Chasing another vehicle on the highway, no matter what the reason, is not a smart course of action, Lehman said.
"The best thing to do is be a good witness. What's most helpful to us is a license plate number, we can do a lot with that," Lehman said. 911 dispatchers will alert nearby officers so that trained emergency officials can track down and pullover the suspected vehicle safely.
Salinas California Car Accident Lawyer and Motorcycle Accident Attorney Website