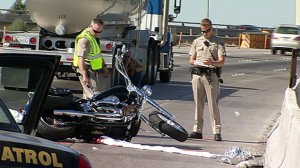 PACOIMA CALIFORNIA – Two people died Sunday after crashing their motorcycle into a big rig on the 5 Freeway.
The crash happened on the northbound 5 Freeway at Branford Street before 11 a.m. Sunday at just as bikers were crowding the freeway for the 28th annual Love Ride charity fundraiser.
According to California Highway Patrol officials, the driver of the motorcycle was between lanes when he collided with a big rig, throwing the rider and passenger underneath the truck where they were both run over, instantly killing himself and his female passenger.
"During 28 years of the Love Ride, we have not had a single fatality," Shokough said. "This is sad beyond words. My heartfelt condolences and sympathies go to the family and the friends of these two riders"
Two others were treated on scene for minor injuries and another was taken to a local hospital for treatment.
Led by "Tonight Show" host Jay Leno, today's event was expected to draw over 18,000 bikers and raise as much as $1.7 million for charities, including this year's designated charity, Autism Speaks.
Love Ride was established in 1984 by Harley-Davidson of Glendale.
The only reason Liz and I were not doing this year's Love Ride is because I am having a surgery on Friday, and I needed the weekend off.
News of this accident makes me sick as it would any biker who rides motorcycles.
Here in California most of us bikers and motorcyclist split lanes because it is not illegal, and traffic is horrible.
It appears that the guy who was killed in this wreck may have been splitting lanes.
I myself have split lanes countless times and I can tell you what, when I get next to a big rig I always get nervous, especially when there is nowhere to go.
I am not going to use this news to write an article on how to lane split.
My prayers and condolences go out to the family and friends of the rider and passenger who were killed in this accident.