I have been riding Harley-Davidson motorcycles for quite some time, off and on, for over 30 years. My last bike was a 2008, Harley-Davidson Electra glide Ultra – Classic,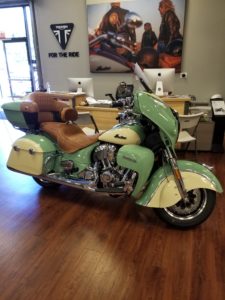 I decided to take a look at obtaining a new motorcycle, partly because I wanted to see what new technology was out there.
I finally narrowed down my search to two possible motorcycles, a 2017 Harley-Davidson Ultra – Limited, and an Indian Roadmaster.
In my research, I discovered that the 2017 Harley-Davidson Ultra – Limited had the new Milwaukee 8 motor, which has water-cooled heads, which means it runs months cooler than the current motorcycle that I have, has 11 more cc inches of power than I have now, a redesigned engine mount which lessens vibrations, a redesigned fairing which is said to be more stable, updated hard saddlebags, and an updated head unit with Bluetooth capability.
Frankly, I did not like any of the color schemes that came with the Harley-Davidson Ultra – Limited. With a motor cycle manufacturer such as Harley-Davidson, I would've expected more choices, or even custom options.
If I chose to get the Harley-Davidson, it would basically be getting the same motorcycle I have had for the past 12 years, with an updated engine, fairing, stereo, and saddlebag openers.
In my mind, there is no way to justify paying approximately $30,000 for an updated Harley just because of the few things mentioned above.
When I looked at the Indian motorcycles, frankly I was very surprised to see how far they'd come. The Indian motorcycles in this class have a 111 c.c. motor which is called the ThunderStroke. It puts out 119.6 foot-pounds of torque, and has approximately 90 hp. Although it is air cooled like the old Harleys, and heats up like the old Harleys, this engine is a beast, trust me it has some punch, it is fast.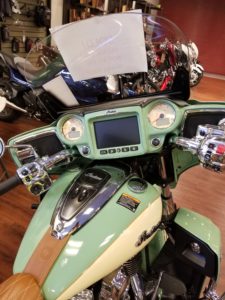 Further, when I looked at the Indian Roadmaster, I saw many built-in features that would cost thousands of dollars to get on a Harley-Davidson as add on extras.
The head unit on the Indian is incredible, it has GPS built in, a much bigger screen, and shows you all engine functions, including a multi-function display, right on the front bike.
Basically, the Indian Roadmaster is a beautiful bike.
Lucky man that I am, when my fiancé found out that I liked the Indian Roadmaster, she decided to buy one, for me to ride, with the only condition that she be the only female I allow the back. Of course, I said yes 🙂 this lady is about to become my wife anyway.
We went to a dealership locally called "Indian Motorcycles of Orange," (More on them in part two of this article.)  to look at the Indian Roadmaster.
They had in stock, a black Roadmaster, a black and ivory one, and a red one, however, I wanted the green and ivory color Roadmaster.
I told Indian Motorcycle of Orange County that my fiancé was a cash buyer, and we wanted to buy a new motorcycle within a week.
The sales manager told us that he would call around to his other dealer friends, and if anybody had one, he could have it within a couple of days.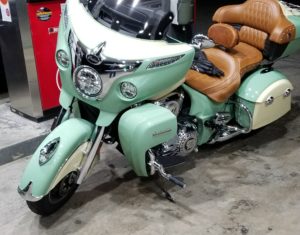 I figured that the dealer would be very excited to have a cash deal on their most expensive motorcycle, and that he would have jumped right on it trying to find the motorcycle that we wanted.
I called him the next day, and he told me that he had not had a chance to check yet, but that he would, and that he would get back to me.
3 days later I still had not heard back from him, so I decided to take matters into my own hands.
I went online and looked at the inventory of all of the local dealerships myself. I discovered that only Spirit Motorcycle of San Jose California had the motorcycle I wanted in stock, the green and ivory motorcycle. Unfortunately, it was 450 miles away.
I called and talked to the owner, Martin, who was very helpful, and we worked the deal out over the phone. Within 2 days, I was on a plane to San Jose to go pick up the bike.
Ironically, the day I was about to leave to go pick up the bike, Indian Motorcycle of Orange called me and left a message, but it was already too late, the deal was already done with Spirit, and I was on my way to San Jose to pick up the Indian Roadmaster.
Had Indian Motorcycle of Orange called me back sooner, they would have gotten the deal.
If you are a motorcycle dealer, I doubt you are so busy that it would take you days to find a unit for a customer, or at least call them back to let them know you are trying. It took me less than 15 minutes to find the motorcycle I wanted.
If you snooze, you lose. More on Indian Motorcycle of Orange below, and in part 2 of this article.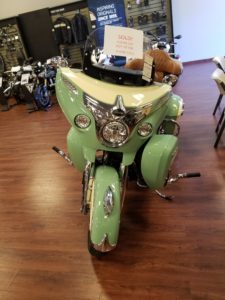 When I got to San Jose, they picked me up at the airport, brought me to the dealership, you can see from the pictures here that this is what I picked up. It is the most beautiful motorcycle I have ever rode I think.
The dealer sent his expert out to teach me everything I needed to know about the motorcycle before I took off on it, I had the service department install infinity Highway pegs on the motorcycle before I left.
This dealership bent over backwards to make sure I was happy. Since I did not bring a helmet with me, I purchased an Indian DOT meanie helmet with the built-in visor for the road.
How many of you have obtained a brand-new motorcycle and then rode it 420 miles plus home :-)?
Continue reading "I have switched from Harley Davidson Motorcycles to Indian Motorcycles; Part 1"