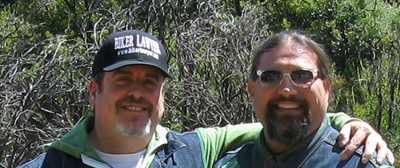 I got a call today from my Brother Slider who went down today on his motorcycle.
It seems that a woman who was not paying attention, decided to make a right turn directly in front of my brother who had no chance to stop or get out of the way. He then laid his bike down and slammed into the car that turned in front of him.
Although I do many motorcycle accident cases every week, this one hit me real hard. Hell, I just rode with Slider and his old lady this past weekend up to Angeles Crest. Slider is my brother, and he is a friend.
As usual, when Slider called me today, he acted cool as if nothing was wrong. He told me about someone who had a motorcycle accident, and asked me if I could help. I said of course brother. He then told me it was him that went down. I could not believe it.
Here my brother is sitting in the E.R. at a major hospital with a broken and torn knee, road rash, and in major pain, and here he is talking as though everything was normal.
You have to know Slider to understand his coolness even while he is in extreme pain.
I went to the ER with a couple of brothers on Thursday evening to see Slider and his old lady. He is in pain, but I think he will live.
I ride with a lot of hardcore bikers, and Slider is no different, however, due to my experience in dealing with these types of cases, I know once Slider gets past the physical issues, he will have to get past the mental issues as well. Most riders that I know who have gone down, end up being much more careful and cautious riders as a result.
God please be with my brother Slider and his old lady and give him a speedy recovery.
By California Motorcycle Accident Attorney, and Biker Lawyer, Norman Gregory Fernandez, Esq., © May 24, 2010