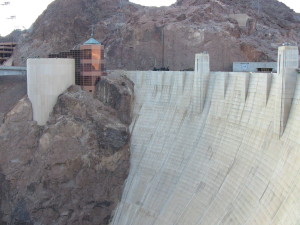 Although I am writing this article on December 19, 2012, I actually returned home from my epic around the nation RV trip on September 6, 2012. Being gone almost two months, driving approximately 8600 miles not including the hundreds of miles I rode on the motorcycle while on the trip, almost going over a cliff when we lost the brakes in the RV in Wyoming, etc., required a lot of my time when I got home. It was all worth it. This is the final article I will write about my epic trip. Later I will post pictures and videos from the trip.
When we left off, Liz and I were dry camped in Greybull, Wyoming waiting for the brakes to be fixed on my motorhome. My front bumper was destroyed in the accident, and the back bumper was cracked in two places when the trailer fishtailed into it.
The guys at the shop where we were camped out and who repaired the brakes on my RV were amongst the most reputable and nicest people I have ever dealt with. They could have totally screwed me and told me that I needed a $3,000 brake repair. Instead they told me that my rotors were good, that the pads were totally gone, and the fluid had completely boiled out of the system due to overheating, but that there were no leaks. The total repair bill was $600.00. Another interesting thing about being dry camped at the repair shop in Greybull was that our cell phone service did not work at all, nor did my internet Wi-Fi. We were basically totally out of touch with civilization while we were there.
The total time we were in Greybull Wyoming was approximately 2 nights and 3 days. It was a very small town full of great people. It is the kind of town where I could see myself setting up a cattle ranch someday.
We had a choice to make; should we just count our blessings and drive our damaged RV home or should we continue north to Cody, Wyoming and Yellowstone National Park? There really was no question, we had come this far and we were not turning around now; Cody, Wyoming would be our next stop on the way to Yellowstone.
We left Greybull, WY for Cody, WY in the afternoon. It was a cloudy day. The total drive from Greybull to Cody was around 54 miles. It was really good to be back on the road in our motorhome. You must understand, this was essentially our last week of vacation, and after the accident we had no clue whether we would have to leave our RV and all of our possessions in Greybull and rent a car to get home, or what would happen. We were geared up for a two month trip and you can carry lots of stuff in and underneath a Class A motorhome. Had the RV not been drivable there would have been no way to carry everything home in a rental car or even a rental van.
Being back on the road at this point felt fantastic.
When we got to Cody the first thing we did was go to Wal-Mart and get a throwaway cell phone that worked in the area because our carrier did not work in Wyoming. We called our relatives and I checked in with my office to let them know what had happened. Afterwards we stopped and got some Chinese buffet food.
Turns out Cody is a really cool western town, the gateway to Yellowstone. I really fell in love with Wyoming and its people.
We found a really cool RV park and camped out for the night with the intent of riding my Harley Davidson Electra Glide to Yellowstone in the morning.
In the morning we woke up and there were ominous clouds in the sky but it did not look like it was going to rain.
As soon as we got on the road just north of Cody, the clouds got much worse and the sky opened up. I was only wearing a soft flannel jacket, Liz had on a leather jacket, we both had jeans on, and of course, no rain gear. Plus it was damm cold. We decided that we were not going to stop now, Yellowstone, here we come.
It literally rained during the entire ride to Yellowstone from Cody, it was cold and it was miserable, but it was also one of the most beautiful rides I have ever taken. The grand mountains, the rocks, the sites all were too much to take in on one ride; however, I tried the best I could.
This is one ride that everyone must take at least once in their lives.
When we got to the gate of Yellowstone, I got off the motorcycle, paid the entrance fee, got back on, and rode into the park. It was very cold at this point, and we were soaking wet from head to toes, but nothing was going to stop us.
Yellowstone is much bigger than I expected, plus it is at a very high elevation. The riding in this park was excellent. The sites were breathtaking.
I am sure the ride in Yellowstone would have been much better if we were not soaking wet and freezing cold but hey, you cannot have everything.
While riding in the park there were several places where Buffalo roamed, literally, right on the road. All the cars stopped to observe. Hell they walked right next to us. On a motorcycle it is a bit different having huge Buffalo walking in front of you and next to you, than if you are in a car. Any one of these huge animals could have taken us out.
We rode the loop to one of the boiling water sites. Yellowstone itself sits atop the largest Caldera (volcano) in the world. If the volcano underneath it ever erupted it would take out much of our nation.
Yellowstone was a great ride. I will definitely go back to Cody, WY and Yellowstone soon.
The ride back to Cody was a cold and cloudy ride. The rain had stopped, but it was still cloudy. When we got near Cody it got dark and a bit warmer. We decided to cruise the main drag in Cody and find a place to eat, we chose an Italian place and had a good meal. After dinner we went back to the RV because we knew we would have a long ride the next day.
Upon waking up the next day, I put the motorcycle on the trailer and strapped her on, struck camp, and we were off.
After a month and a half, we were finally heading south towards our home in Southern California.
When we left Cody, we were not sure where we would spend the night. Usually on the trip we would look for RV resorts in several of the books we had with us or the GPS. We really were not sure how far we would drive.
I was nervous due to the fact that we had lost the brakes in the mountains, our RV was damaged, and I did not want a repeat performance of losing the brakes.
Sure enough we ended up driving through some major mountains on the ride south out of Wyoming. Let me tell you, it was a beautiful drive. The mountains were awesome. When we hit the Continental Divide, the mountains were awe inspiring.
After the Continental Divide, southern Wyoming turned out to be mostly a desert type of environment. It was a stark contrast to northern Wyoming.
It was basically open road with small towns sprinkled in vast distances.
We finally hit Utah in the late afternoon and continued driving south. We ended up in ski country by nightfall. Unfortunately, it became real dark, and we could not find any RV resorts anywhere nearby on any of our resources. We decided to try to find a Wal-Mart where we could park and dry camp for the evening.
We were both exhausted and very tired by this point. Hell I had been driving all day and well into the night. We had no luck finding any place to camp for the night so we kept on driving.
We finally found a Wal-Mart in Salt Lake City, UT to camp in for the night. When we got there our generator would not start and I had no clue why. We had to rough it for the night without TV, just on our battery power and internal water supply. I was so tired that I did not really care. We fell asleep almost immediately.
The next morning we stopped at a Denny's for breakfast, and got on the road with our destination being Las Vegas, NV. This would be the last major stop before home.
The ride from Salt Lake City to Las Vegas was an excellent ride as well. I had no clue how cool the mountains north of Las Vegas were because I had never traveled this route before.
We found a great RV resort a block from the Las Vegas strip, but a few miles south of the main casinos on the strip. The normal rate there was $60-$80 a day, with my RV membership, we paid less than $30 per day.
We must have looked like ragamuffins when we pulled in. My RV was coated with bugs from an over 8,000 mile trip at this point, the front bumper was basically gone from our accident, the back bumper was cracked, and everything was dirty. All of the other RV's looked new and pristine in the park. No problem, hell thinking about how far we had come was a mind trip in of itself.
The RV resort in Las Vegas was off the hook, every amenity you could possibly want. However, this was Las Vegas. We waxed the motorcycle to clean her up, got her off of the trailer and took off into town for a great evening. By this time Liz had become adept at helping me was the motorcycle, it was actually nice to have her help.
Our plan was to stay in Las Vegas for two nights, then head home.
The next day Liz and I rode to Hoover Dam. This was her first time there. It was as usual hotter than hell in Las Vegas and Boulder City. But it was OK.
Both Liz and I at this point did not want to go home. We both wanted to stay on the road forever. For both of us, going home would mean going back to work and responsibility. This had been the best and longest vacation of both of our lives, a trip that maybe less than 1% of all Americans would ever get to make.
The fact that we would head home the next day kind of made us both sad and excited. I must admit that I kind of missed just being in a house without having to drive!
On our last night in Las Vegas after the ride to Hoover Dam we had another good time. We both lost money in the casinos, and then we headed back to the RV Park knowing we were going home the next day.
The last day of our trip saw us waking up with a mission, to get home. I put the motorcycle on the trailer for the last time on this trip, strapped her up, struck camp, and we were off again.
I could tell Liz was not happy about having to go home, but since her aunt was house and dog sitting for us, and we were about 3 weeks over the time we were supposed to be gone, she knew we had to go home.
The ride home was a decent trip. Compared to the 8600 miles we had driven, the ride from Las Vegas to our home in Acton was nothing. A little 200 mile or so jaunt compared to where we had driven on the trip.
When we got home on the evening of September 6, 2012, and I walked in my home, I was shocked at how big it seemed compared to the RV which was our home for the last approx. two months. It took me a while to get used to it.
The epic two month 8600 mile trip we took around the circumference of the United States was probably a trip that can never really be repeated although I have every intention of doing it again. The gas alone was almost $10,000 for the RV.
The memories Liz and I shared during the trip will last for a lifetime. It was that kind of a trip, something you could write a book about.
Here it is December 20, 2012, and in a way I am still recovering from the trip.
Two weeks later Liz and I took the RV back to Las Vegas for the Las Vegas Bikerfest and had a great time.
I wonder who my next trip will be with.
By California Motorcycle Accident Attorney and Biker Lawyer Norman Gregory Fernandez, © December 20, 2012