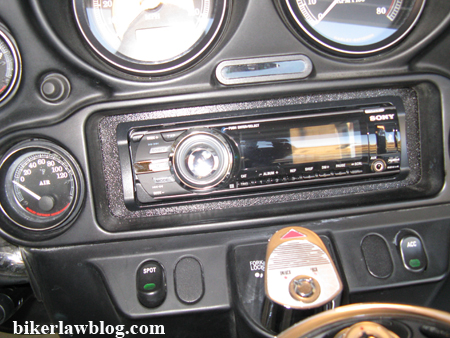 See Video Review Below!
Background
I am a long distance motorcycle rider. This summer I am not only planning on riding to the Sturgis motorcycle rally which is a 2700 mile round trip plus ride, I am also planning on doing other rides, not to mention the 2000 miles I have already put on in the last couple of months. I wanted a state of the art stereo on my motorcycle with built in MP3 for my music collection, a built in High Definition receiver, and the ability to have built in Satellite reception for when I am in the middle of no where. I want to listen to CNN in the middle of the Western Desert!
In 2005 I switched to a Harley Davidson Electra Glide motorcycle from a traditional cruiser motorcycle. Before 2005, I had never ridden with a stereo system built into a motorcycle before, hell a windscreen was luxury to me back then. Since 2005, I have become spoiled. I will probably always ride baggers from here on out. Once you get used to luxury it is hard to turn back.
My Harley Davidson Electra Glide came with the Harley Davidson Advanced Sound system installed in the bat wing fairing, which in of itself has done its job quite well over the last 5 years, but the technology is outdated, even on the new units.
On my unit, there was a built in CD player, minimal AM/FM presets, built in weather band, and a sensor which increased volume as I would increase speed on the motorcycle. There was also an auxiliary input which allowed me to plug in an external MP3 player so I could listen to my music collection. The system worked with my OEM hand controls so that I could virtually control the entire stereo via my OEM handlebar mounted hand controls on the Electra Glide. The unit is great, but it is old technology. If all you want is a standard CD, a few AM/FM presets, and weather band, this unit is perfect for you. I am a tech geek, I wanted more!
Over the years I have plugged in an I-Pod, a smaller MP3 player, and I have also used my Garmin GPS to serve music to the Harley Davidson Advanced Sound System via a cable plugged from the device to the auxiliary input of the Harley Davidson Advanced Sound System. It worked, but to be frank, there was no real control of the tunes being played unless I dangerously tried to skip tracks while I was riding because the external device was controlling what was being played rather than the head unit. There were issues with the volume of my MP3 device having to be cranked up to full volume to sound good through the auxiliary input, and each device sounded different through the stock stereo.
Furthermore, the cable plugged in from my GPS, or a device in my pocket looked like crap, it flutters in the wind, and the quality of having an external connection is not as good as it could be. Not only that, but everytime I got off the motorcycle, I would have to unplug my external MP3 player, turn off the external MP3 Players, etc. If the battery wore out on my external MP3 Player, I was shit out of luck. Lately using the GPS solved many of the problems, but I had no real control of the tunes being served to the Harley Davidson Advanced Sound System. When I got back on the motorcycle, I would have to plug everything back in, and start the MP3 player before I started riding, a real hassle; I am sure you get the picture, because many of you are doing this right now!
For short trips, rather than plugging in my external MP3 player, I used one of my home burned CD's in the OEM system, which I have probably listened to over a 100 times now. It gets old if you know what I mean.
Let's face it, with MP3, standard CD's are obsolete, even CD units which read MP3's, and other digital formats are obsolete because you can only fit so much on a disk, and most of these units have a limit as to how many tracks can be on a disk even if you buy the more expensive DVD format units.
Modern technology allows you to literally have every song ever made on one thumb drive, or standard USB disk drive now. There is no reason to ever have to switch CD's anymore. Most of you including me don't have every song ever made on disk, but my collection is almost 4GB and growing weekly.
There was an MP3 option for the Harley Davidson Advanced Sound System, but it is an external unit that mounts to the handlebars and it is ridiculously expensive for what they give you. Plus you are severely limited to memory on Harley Davidsons MP3 option. On top of that, the new Harley Davidson Advanced Sound Systems need to be programmed at the dealer. If the unit goes dead, it can only be revived by a dealer reprogramming it. How much would that cost everytime? No thanks, I love Harley Davidson, but the reason I am upgrading is to go state of the art. Their solution is not state of the art.
The Biketronics Article and Review Continues below the two videos.
One good thing about the Harley Davidson Unit is that it was as reliable as a beast. It is basically waterproof. I have ridden through rain storms, and washed my motorcycle many times, and the stereo kept working no problem.
Well recently, I decided to upgrade my stereo to an aftermarket non OEM stereo so that I could have modern electronics on my motorcycle the way I wanted it, and not the way Harley Davidson wanted it.
Research
My first dilemma was to find a stereo system (head unit) that would work with the existing hand controls on my Harley Davidson Electra Glide, and that would mount in the faring without having to modify the OEM wiring. I wanted a plug and play solution.
Continue reading "I Replaced my Harley Davidson Advanced Sound System with a state of the art Sony Stereo System; Here is My Review."