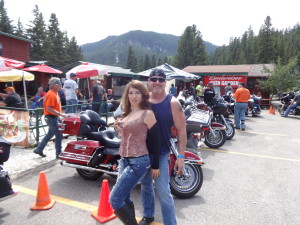 I know many people do not like surprises, but I have a big surprise that's coming that will revolutionize the way motorcycle accident cases are handled nationwide.
As many of you know I have been utterly disgusted at the marketing tactics that have been directed towards motorcycle accident victims by 2 outfits in particular that in bad taste plaster motorcycle rallies in advance with a bunch of their advertisements.
Who the hell wants to go to a motorcycle event to have a bunch of non-riding personal injury attorneys posing as motorcycle lawyers bombarding them with advertisements every single place they look. I sure the hell don't.
I will be at the annual Laughlin motorcycle rally at the end of this month, and I am quite positive I will see the same BS marketing outfits bombarding bikers with their advertisements.
The fact of the matter is yes sometimes motorcycle riders do get into accidents, sometimes motorcycle riders need the assistance of an experience motorcycle lawyer to get them help.
I have been riding motorcycles over 30 years, I have been in motorcycle clubs, I have ridden motorcycles all over the world, and I have done many motorcycle cases all over the state of California. I have put thousands of miles on motorcycles of various types. I know what goes on out there on the street and on the freeways. I am known in the motorcycle community nationwide, and I have finally had enough of looking at these outfits basically sucking the blood of motorcyclists of who have been in accidents.
There is another sort of generic personal injury attorney that advertises for motorcycle cases as well. These are simply generic personal injury law firms that take all types of personal injury cases, and do not have any specific expertise related to motorcycle accident cases other than them applying general personal injury theory to your motorcycle accident. How the hell is this type of attorney going to know what happened in your case if they can't even describe how the gears are shifted, what counter steering is, or explain to a jury why you have a right to be on the road with cars?
The new organization that I'm starting is going to be a premier motorcycle accident resource nationwide. There will be a lot of hoops that I will have to jump through to get this thing going, and I am jumping through them now. I have been contemplating doing this for many years, and I am finally now doing it.
I am hoping to partner with some of the largest entities in the nation so that we can provide real value to you motorcyclists and bikers out there, my people, because I am one of you, and I want to help you if God forbid the time comes when you have an accident and you need help.
I will be attacking these entities had on and exposing them for what they are, and above all I will be the go to resource for motorcycle accidents nationwide.
In the meantime, if you a motorcycle accident, or any other type of accident in the state of California, continue to give me a call at 800-816-1529 and I'll take care of you.
Soon, this will move to a nationwide set up for motorcycle accident cases.
By California biker lawyer Norman Gregory Fernandez, © April 8, 2016