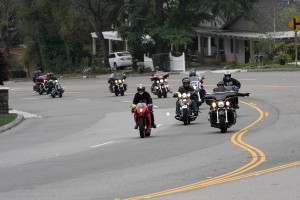 As the California State Department of Transportation is poised Friday to re-open Angeles Crest Highway, a curvy mountain road beloved by bikers, the CHP will step up enforcement.
The Crest's sweeping turns and steep cliffs demand motorcyclists navigate the road with care and at a controlled speed, and the California Highway Patrol plans to help folks remember this through the Motorcycle Safety Coalitions grant, the agency announced Wednesday. CHP Public Information Officer Ming-Yang Hsu declined to release the amount of the grant.
The grant, which provides enhanced enforcement effort by CHP officers through September 30, will focus on traffic violations made by motorcyclists, as well as other vehicle drivers that can lead to motorcycle collisions, injuries and fatalities, according to a CHP press release.
"Angeles Crest has one of the highest accident rates in the state," Hsu said, adding the CHP waited to make the grant announcement until Caltrans' announcement of reopening the road.
According to data from the CHP's Statewide Integrated Traffic Records System, 164 motorcycle-involved collisions occurred on Route 2 from Starlight Crest Drive to state Route 39 in Los Angeles County between January 1, 2007 and December 31, 2008. Among the collisions, eight were fatal, seven of which were the result of unsafe speed. Of those, speed was the primary collision factor for 98 of the accidents.
Therefore, in an effort to reduce the number of motorcycle-involved fatal and injury collisions along the 38-mile stretch of highway patrolled by the Altadena Area office, the CHP will establish a task force and develop and implement a public awareness campaign by working with local agencies and community members.
Funding for this grant was provided by the California Office of Traffic Safety through the National Highway Traffic Safety Administration.
Basically what this grant does is give the CHP more money to put more officers on the Angeles Crest to roust motorcyclist and bikers.
You have now been warned, take it easy out there!