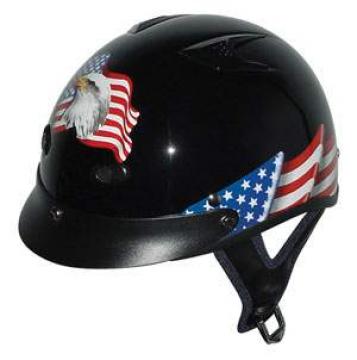 Novelty and/or Counterfeit DOT motorcycle helmets may look the part, but many, if not all, fail to meet federal safety standards.
These dubious novelty and/or counterfeit helmets feature a Department of Transportation (DOT) approved label, but most are counterfeit, according to the National Highway Transportation Safety Administration (NHTSA).
In other words if you buy a cheap helmet that you think is DOT certified because it has a DOT label, you may be buying nothing more than junk.
It is important that if you want to wear a DOT helmet for safety purposes while riding your motorcycle that you ensure you are buying a helmet manufactured by a reputable helmet manufacture.
To help combat counterfeiters, the NHTSA has revised the DOT labeling for motorcycle helmets that now reads "DOT FMVSS No. 218 Certified," which is an acronym for the Federal Motor Vehicle Safety Standard 218.
Effective May 13, 2011, all new motorcycle helmets must have one of these new labels in its interior, which show that the lid met federal standards for "Impact Attenuation," "Penetration" and "Retention System," such as the strap.
Besides reading "DOT FMVSS No. 218 Certified," the label will also identify the motorcycle helmet manufacturer, precise model designation and also month and year of manufacture.
According to the FMVSS No. 218, "Each helmet shall be labeled permanently and legibly, in a manner such that the label(s) can be read easily without removing padding or any other permanent part."
And of course, the DOT logo sticker must be present at the lower rear of the motorcycle helmet.
The NHTSA says these new labeling requirements will enhance overall motorcycle safety based on the following statistics:
A motorcycle helmet that meets the DOT FMVSS No 218 requirements drops the risk of dying in a motorcycle crash by 37 percent, the NHTSA reports; and
If fewer helmets are created that don't meet the federal standard, the NHTSA reports that between 22 and 75 lives may be saved.
It is good to see the NHTSA trying to save the lives of motorcyclists by attempting to weed out scumbag helmet counterfeiters. However, there is a good chance that the new labels will also be counterfeited.