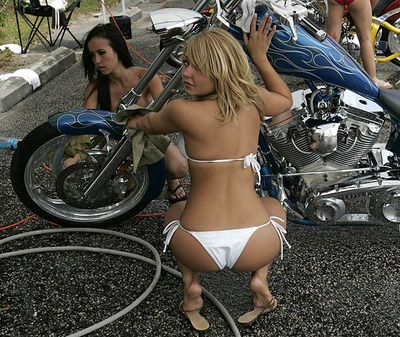 I have been riding my ass off for the past 7 weeks or so, it has been a real blast.
Now here it is Sunday June 5, 2011, and I have a free afternoon. I went into my garage to get something out of my saddlebag. I looked at my Harley Davidson Electra Glide. Then I realized, it is friggen filthy and in serious need of a good wash and wax.
When you do hard riding like my bros and I do, your motorcycle gets real dirty.
One of the all-time things I hate doing more than anything in the world is washing and waxing my motorcycle.
With my car it is simple, I drive to a car wash and I let them detail my car. With the motorcycle it is not quite simple because there are no places to get your motorcycle washed.
You would think that living in, and riding in, the most populous motorcycle area (Southern California) in the nation, some entrepreneurial person would have set up a chain of motorcycle wash shops to make it more convenient for us bikers to wash our bikes. It has not been done yet.
So guys like me are forced to wash our own motorcycles. Don't get me wrong, I am no sissy, but I friggen hate washing and waxing motorcycles with a passion.
In the old days when I had a basic softail motorcycle or a Jap cruiser, it seemed bad enough washing and waxing the motorcycle. It got a little bit easier using the spray on/rinse off washing solutions that did not require scrubbing.
On some occasions the spray on, no scrub wash would leave dried bugs on the motorcycle, so I would have to manually scrub a bit.
However, the waxing always sucked and there was simply no way around it.
Now that I have a bagger Electra Glide, complete with hard bags and tour pak, the job has gotten much worse.
I just took a look at my motorcycle downstairs, and it is real filthy, and I sure the hell do not feel like washing and waxing her today.
I have all sorts of cleaning supplies and such in my garage.
For the present dirty condition of my motorcycle, I will use a spray on, rinse off wash system to get the major road grime off and to clean the wheels. Then I will have to hand wash the motorcycle as well because the spray on, rinse off solution will not be good enough to get all of the grime off.
I will then use a microfiber cloth to do an initial dry off. This also serves to wipe off any additional grime that the washing left behind.
I will then use a blow dryer that I bought from JP Cycles a few years back to get most of the water off of the motorcycle. Especially the parts that tend to collect water like underneath the seat, and the bottom of the V-Twin engine and such.
Once the motorcycle is completely dry, I let her sit for about a half hour to an hour just to make sure all of the water has evaporated.
I then do a complete wax. This is the most sucky party of the whole process because it takes time to get a Harley Davidson Electra Glide all shiny with no wax streaks or residue.
The whole process takes around 2 hours to do it right.
So right now I am dreading washing my motorcycle again.
When will someone open up a motorcycle wash near where I live? I would be willing to pay a decent amount of money to not have to waste another 2 hours washing and waxing my motorcycle.
Oh yes, and usually after one ride, the damm thing is dirty again…………….
By California Motorcycle Accident Attorney, and Biker Lawyer, Norman Gregory Fernandez, Esq., © June 5, 2010