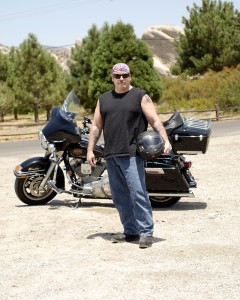 The old saying what goes around comes around, is not just a saying, it is a fact.
I have been a biker and a motorcyclist for many years. I can recall many times where I had a problem with my bike on the road, and a fellow biker stopped and helped me out.
Bikers and motorcyclist for the most part are the friendliest and most helpful people you will ever meet hands down.
If you breakdown in a car forget it. If you breakdown on a motorcycle, chances are a fellow biker will stop and lend you a hand.
My opportunity to help out a fellow biker happened yesterday when I was going to my PO Box to pick up mail. I noticed an Electra Glide in a space, and I proceeded to park next to it.
I then saw a gentleman come out of the bank and hop on.  As I got out of my car I could hear him trying to turn on his motorcycle, but it sounded like he did not have enough juice in the battery.
I walked in to get my mail. As I walked in I heard his motorcycle go click, click, click. I knew his battery was dead.
As I walked out I asked him "is your battery dead?" He responded "yes."
I did not have any tools in my car, but I happened to have a hardcore battery charger and extension cord that I had recently used on my RV.
I told him that if he could get the seat off, I could give him a jump start. When I pulled the gear out of my trunk, he was amazed.
While he was pulling his seat off, I asked him if he has ever read my Biker Law Blog, he took a second look at me and said, "Yes, as a matter of fact, I just installed a Biketronics kit in my motorcycle, and I read about it on your blog."
He then proceeded to thank me for what I had written, as well as helping him with his bike.
After a short time, we got his motorcycle started and he was on the road.
I have had fellow bikers and motorcycle riders help me, and it felt good to help back. It was also rewarding to know that many of you have read my articles and learned something new.
If you ever see a fellow biker broke down on the side of the road, lend them a hand. Remember, what goes around comes around.
By California Biker Lawyer and Motorcycle Accident Attorney, Norman Gregory Fernandez, © June 15, 2013