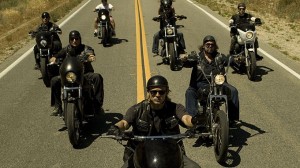 As most of you probably know, and some of you may not know, there is a TV show on the FX cable channel called Sons of Anarchy. You can check out their official website by clicking here.
The TV show is set in a fictional California town called Charming, California, and it revolves around a fictional motorcycle club called the "Sons of Anarchy."
I have held out about writing about this show until now. The TV show has become real popular, and I think it is creating a negative stereotype for bikers and motorcyclist.
Hell I know many of the guys who work as extras on the show.
The ironic thing about the TV show the Sons of Anarchy is that it is all fiction. The show portrays motorcycle club members as murderers, gun runners, drug dealers, organized criminals, etc.
Basically the TV show portrays motorcycle club members as everything you have ever seen in bad B movies, or read about in fiction novels.
I myself have been involved with motorcycle clubs for many years, and have friends and clients in what some would consider the top motorcycle clubs in the world. I can assure you, none of them do the crap that is portrayed in the TV show.
Basically the TV show does nothing for Bikers and Motorcyclist but portray us in a bad light to the public.
Now I know that many of you are saying "geez, everyone knows this is just a fictional drama, and is not really true." Well from my experience so far, there are actually people out there who believe that the crap they see on TV happens in real life.
What is worse, law enforcement, and main stream media perpetrate the myth that all motorcycle club members are members of outlaw street gangs that are armed and dangerous.
Although it may be true that a very small minority of motorcycle club members may commit crimes from time to time, just like members of every other segment of society, that does not mean that all members of motorcycle clubs are gang members and criminals.
You cannot lump the acts of a few bad apples onto everyone. If this were true, then Walmart or the Los Angeles Police Department could be called a criminal street gang.
TV shows like the Sons of Anarchy just help to perpetrate the myth that members of motorcycle clubs are all criminal gorillas, which in my personal experience in riding with, hanging out with, and being friends of guys in motorcycle clubs, is bullshit.
I will be frank; I actually do watch and enjoy the show. I enjoy it for what it is, fictional drama.
However, the world does need to know and realize, The Sons of Anarchy is fictional drama and not real.
I would like to hear your comments about this show. You may leave them by clicking on comments below.
By California Motorcycle Accident Attorney, and Biker Lawyer, Norman Gregory Fernandez, Esq., © 2010