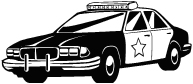 **** 5/16/10 Update: Officer found guilty in shooting of sitting biker, see below for link.
**** 5/12/10 Update: See Video of shooting victim testifying in Court below.
When you are stopped by the Police in your car, on your motorcycle, or other motor vehicle, it is usually because the police think you have done something wrong.
It is very important that you keep your hands visible to the police officers for various reasons, the most important of which is so that you do not get shot or tasered.
Here is a link to some very disturbing video of a man being shot by the police while sitting on his motorcycle; click here to see video and story. The police officer is facing felony charges. The man who was shot is paralyzed as a result.
The police officers defense attorney is arguing that the police thought that this man had a gun. Judging by the video, it looks like a cold blooded shooting that was unjustified, however if you put yourself in the officers shoes, how did he know for sure that the biker did not have a gun when he turned toward him? If you were a cop, what would you do under similar circumstances?
I for one, sure the hell do not want to be the victim of a shooting such as this; who does?
There are a few things you can do to ensure that your encounters with law enforcement are safer for you and for law enforcement.
If you are in a car or other enclosed vehicle, turn off you ignition, place your car keys on the dash board, and keep your hands on the steering wheel. If the officer asks for your license and registration, ask the officer if it is ok to remove your hands from the wheel, and tell him where you are going to reach to get the information he or she is requesting. Once you get the information, put your hands back on the steering wheel until allowed to leave by the officer.
If you on a motorcycle, turn off the motorcycle, put you hands on the handlebars, and wait for the officer to approach. Do not remove your hands from the handlebars until the officer asks for your license and registration, at which time ask for permission to remove your hands from the handlebars, and inform the officer where you will be reaching.
In either case, do not exit your vehicle unless asked to do so, and do not get off of your motorcycle unless asked to do so.
I know many of you are thinking that having to do this is plain wrong. The purpose of the above exercise is not being right or wrong; it is to protect your life by assuring the police that you are not a threat.
I am not sure if this above procedure would have prevented the shooting of the guy on the motorcycle in the video, only god knows.
Officer found guilty for shooting, click here for story.
By Biker Lawyer and California Motorcycle Accident Attorney Norman Gregory Fernandez, Esq., © 2010