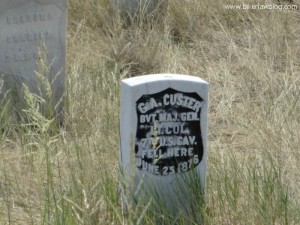 Last year I did a solo trip to the Sturgis Motorcycle Rally, in Sturgis, South Dakota, The Little Big Horn National Battlefield Monument in Montana, and Cody Wyoming-Yellowstone national Park.
You can read about my trip to the Sturgis motorcycle rally by clicking here now.
Soon, I will write about my trip to Cody Wyoming, and the Yellowstone National Park in August 2013. I'm a little late writing these articles, because it is been a very hectic year.
When I left Sturgis, SD on August 11, 2013, it was late in the afternoon. I was in my 35 foot class A motorhome, with my enclosed custom motorcycle trailer, and Harley-Davidson in tow.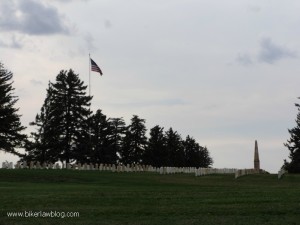 I was excited about the trip I was about to take, but I was a little bummed out when leaving Sturgis SD, because the motorcycle rally had ended, and I had such a great time, I did not want to see it end.
By my calculations, the trip to Hardin, Montana would only take about two hours. As it turned out, my calculations were a bit off.
On the way in to Hardin, Montana, I stopped at a Walmart and stocked up on supplies. I also stopped and filled up the RV with gas.
My trip from Huntington Beach, California, to Sturgis, SD, to Hardin, Montana, and to Cody, Wyoming, cost about $1300 in gas, not including all the gas I put into my motorcycle in the thousand plus miles I rode while on this trip. Unfortunately, motorhomes eat gas like Carter eats pills.
Although I thought I would get to Hardin, Montana while the sun was still out, it started to get dark while I was in Indian country. The trip from Sturgis, SD to Hardin, Montana takes you through beautiful country, and a couple of Indian reservations. I could feel the history as I drove from Sturgis to Hardin.
As I was driving my motorhome, I could sense that I was entering a historic place. I had the same feeling when I toured the Gettysburg national battlefield in 2012.
I arrived at the RV Park in Hardin, Montana, in the evening, at around 10 PM. On the way in I passed the Little Big Horn National Battlefield Monument, but because it was dark, I could not really see anything.
The lady at the RV Park gave me a pull through space which is easy to get in to and set up in with the motorhome. Since it was on a gravel pad, I know I would have to be very careful taking my motorcycle off of the trailer in the morning.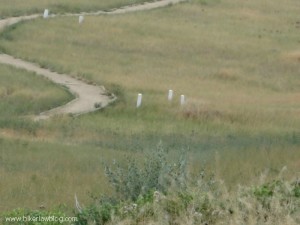 In the morning when I woke up, I prepared to go to the Little Bighorn National Battlefield. I had a quick breakfast in my RV, and some coffee. I quickly took my motorcycle out of my enclosed motorcycle trailer.
The battlefield was only about 10 miles from the RV Park up the interstate.
I rode hard and fast, like I love to do, to get there. I did not wear a helmet in South Dakota, or Montana.
During the day, it started to become quite warm.
Outside of the Little Bighorn National Battlefield Monument, there is a gas station on the Crow Indian reservation. I stopped there to fill up my motorcycle. The reason I'm mentioning this gas station, is because the potholes in the surface of the gas station were so bad, and I had to be real careful so that I did not drop the motorcycle.
It's not something you want a ride a motorcycle on too slowly because you will drop it.
There were some Native Americans with a small tractor working on the road outside. I knew I was on an Indian reservation, and I could feel that I was in a historic place.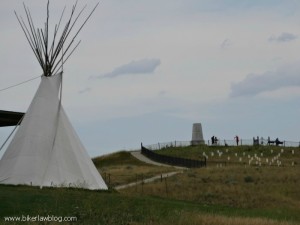 Directly across the street and up the road just a bit from the gas station, is the entrance to the Little Bighorn National Battlefield Monument. When you pull into the entrance, you have to drive up a ways to get to the actual visitor center below the main battlefield cemetery, and monument.
I did not know, but the Little Bighorn National Battlefield Monument, stretched on for miles, and even through private property. It was a much better experience than I expected.
When I initially got in, I parked my motorcycle at the visitor center. I noticed the park rangers were giving a talk to a bunch of visitors at the visitor center. It looked like a scheduled class in a way. There were at least 100 people at the visitor center.
I decided to walk up the road to the main resting place of General Custer on Last Stand Hill.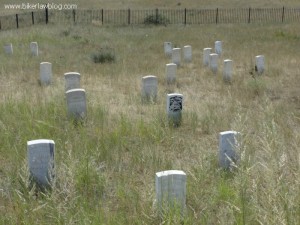 You cannot help but see those famous graves as you walk up the hill.
I walked around and got many pictures and video which can see in this article and below, of my experience at the Little Bighorn.
After touring this area above Last Stand Hill, I went and got my motorcycle and rode back up to this area again on the top of the hill.
After taking in the sights, and trying to imagine what it what it must have been like for those doomed men as they were slaughtered many moons ago, I got on my Harley-Davidson and rode very slowly South through the battlefield.
As with my tour of the Gettysburg national battlefield, my tour of the Little Bighorn National Battlefield Monument would not even be close to the same in a car; you must do this type of tour on a motorcycle.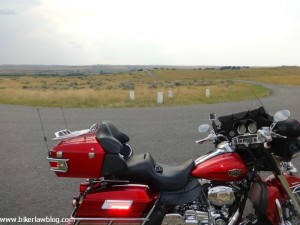 Considering the fact that this battle was mostly on horseback, except for the parts of it where the 7th Calvary, and the Indians dismounted, it is only right to tour it either on horseback or on an iron horse, a motorcycle.
As you go further south on the road, there are grave markers scattered all over the battlefield. There are also signs and placards showing significant places throughout the battlefield.
There are wild horses scattered throughout the battlefield monument.
On a couple of occasions I had to be real careful, because the horses were crossing the road right in front of me, and then right next to me, and there was no fence to keep a them away. I did not want to spook these guys. Check out my GoPro video footage of my ride through the Little Bighorn National Battlefield Monument below.
Throughout most of my tour of the battlefield, or at least this part of the battlefield, I owned the place. I guess most of the tourist stayed at the visitor center. There was one couple in a small RV that pretty much stayed near me the entire time and at each stop miles down the road, you can see them and their motorhome in some of my video below. I did some very slow riding through the battlefield monument. I was in no rush, I wanted to take it all in.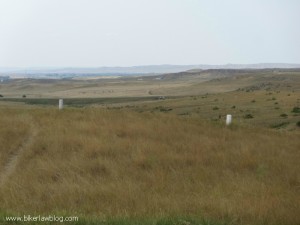 Throughout my tour of Little Bighorn National Battlefield Monument, I tried to imagine what it must have been like the men of the 7th Calvary.
I not only took still pictures, I also took some GoPro video from my handlebars, and some handheld video with my camcorder.
When I got back to the visitor center after riding the Little Bighorn National Battlefield Monument, I parked my motorcycle near the visitor center, grabbed a cigar, and went to listen to the class that the park ranger was giving to another group of tourist.
The park rangers described in graphic detail, how General Custer, his brother, and his men were slaughtered by the Indians during the battle. These guys were basically butchered. You Can't really blame the Indians, to them General Custer and his men were an invading army, and the Indians who were present at the Little Big Horn had their family and children with them on site, to them it was a life or death fight against an invading army.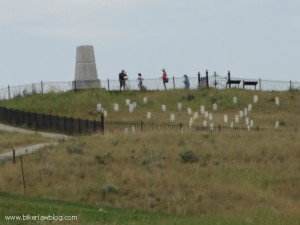 There was about 3,000 Braves on horseback, against a couple hundred seventh Calvary men on horseback.
General Custer did not really know what he was riding into when he approached the Little Big Horn. I think it is safe to assume he thought it was just an ordinary Indian village.
When he crested the bluffs, and got real close, he must've then realized, the bad situation he put himself into by splitting his troops up. He tried to send a messenger back to Reno but by this time it was way too late, he was already doomed and he did not even know it.
After hearing the park rangers give their speech about the battle, I went into the main cemetery, sat on a bench where you can perfectly see Custer's grave along with his other men's graves, and had a fine cigar. I took it all in.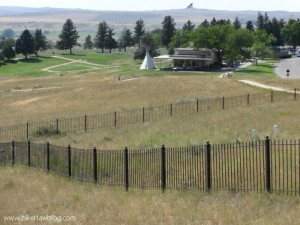 After I finished my cigar, I walked back up to my Harley-Davidson. I saw that there was a bunch of other motorcycles there as well. I said hello to all the other bikers, and introduced myself.
I then mounted my motorcycle, to go find somewhere to eat. In this part of Montana, there is literally nothing around. Hardin is the biggest town close by, and it is tiny.
There are no restaurants anywhere near the battlefield monument, so I jumped on interstate to head back to Hardin where I was camped out, because I saw some what I thought were restaurants there, on the way to the battlefield.
When I got to Hardin, there really wasn't much of a selection. There was a fast food restaurant, so I decided to ride through town to see if I can find anything else. This was a tiny town to say the least. I saw a sign that said Chinese buffet, so I decided to go in.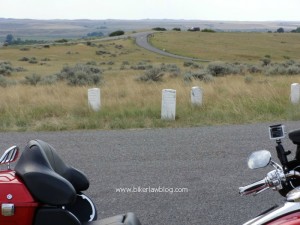 When I got inside the Chinese buffet, there was no air-conditioning, it was hot, humid and stifling inside. I got some food started to eat.
I found myself talking to a Native American woman inside the Chinese buffet which is the reason why I even brought the story up.
Turns out she was a honcho in the Crow Indian tribe. She said she was a princess.
She told me that in three days they were going to be having a major Indian powwow on the Crow reservation. She invited me as a VIP guest of the tribe. I had a good conversation with this lady.
She mentioned that in the town of Hardin, Montana, that there were still problems between the town folk, and the Native Americans.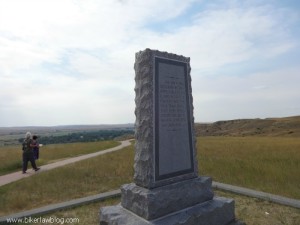 There were a couple local people in the Chinese buffet at the time the Crow Princess mention this.
I also met a couple from Canada at the Chinese buffet, the female was one was beautiful woman I've ever seen. They were very nice to me, and extremely interested in the fact that I was traveling so long of a distance alone.
They were on a Harley Davidson Road Glide and had also been to Sturgis. They were much closer to home than I was.
To be frank, I felt kind of uncomfortable, when the Crow Princess told me about the problems between the town folk and the Native Americans. One of the town folk was actually sitting at the table listening to her talking. It was almost like being in a Billy Jack movie.
I have seen enough movies to know that I did not want to get into any beefs between the town folk and the Native Americans. She told me that there were killings still going on.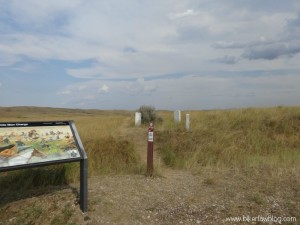 I seriously considered either staying for the powwow, or going to Cody, Wyoming, and the Yellowstone national forest, and coming back for the powwow.
After I finished my meal, I went back to the motorhome, and did a load of laundry. I had a cigar and watched the sun go down. I heard on the radio that there were expecting severe thunderstorms in Hardin, Wyoming, big sky country, where I was.
They were not wrong. As I was watching a DVD in the motorhome at about 10 PM, the wind started blowing the motorhome severely. I had the jacks down, but the motorhome was still swaying from the wind. The rain started pouring down like thunder, and there was a severe lightning storm. I have never heard of any tornadoes in Montana, but it sure felt like there was one coming.
I hunkered inside the RV, knowing the next day I would be departing for Cody, Wyoming, and the Yellowstone national forest.
The next day, on August 13, 2014, I put them motorcycle in the trailer, struck Camp, and departed for Cody Wyoming. It was a beautiful sunny day, after a night of thunder, lighting, and severe wind.
In the end, I decided not to stay for the major powwow on the Crow Indian Reservation. I felt that a three-week trip away from the office, was long enough, it wouldn't be fair to my partner to stay for an additional week. Hell, I was gone almost two months the summer before this one.
My trip to the Little Bighorn National Battlefield Monument was something that I've been wanting to do for a long time.
As you can see from the pictures throughout this article, and the videos below, it is a beautiful and historic place.
I have been all over the world. I've ridden my motorcycle all over the world. No matter where I'm gone, the most beautiful country on earth, is the United States of America.
Nowhere on earth is there better motorcycle riding, or a better place to ride, then the good old United States of America. I enjoy sharing my trips will all of you. My next article will be about my trip to Yellowstone national forest that I took right after the trip I just described. Look for it soon.
Below are some videos i took at The Little Bighorn National Battlefield Monument. The last two videos are videos I took with my GoPro Hero 2 HD video camera attached to my Harley Davidson Electra Glide Ultra Classic on the handlebars.
You can actually ride through the Little Bighorn Battlefield with me on my Harley.
By California Motorcycle Accident Lawyer, and Biker Attorney, Norman Gregory Fernandez, Esq., © June 17, 2014