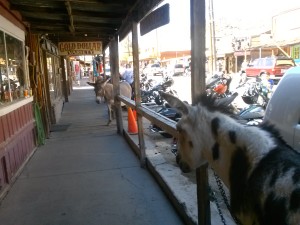 I attended the Laughlin River Run 2013 this year as I do most years. The Laughlin River Run is billed as the largest motorcycle and biker rally on the west coast.
This year's motorcycle rally was different than most past years rallies because the turnout appeared to be smaller than past years rallies, motorcycle club patches and soft cuts were not allowed anywhere near the strip, and there were a gaggle of what I call fake biker lawyers with booths set up at the event just waiting and hoping for those in attendance to refer their motorcycle accident cases to them.
I had for the most part a great time at the event. This was the second major motorcycle rally I have attended in many years, where I drove my motorhome to the motorcycle rally and trailered my motorcycle behind on a motorcycle trailer.
In the past when I rode to motorcycle rallies like this, I basically just rode my motorcycle to the event.
I will tell you that I have learned a valuable lesson in why it is better to take an RV and trailer the motorcycle to major motorcycle rallies. I no longer have to pay $200 a night for hotel rooms and hotels that just wait to poach money off of bikers, I put more miles on my motorcycle at the event than I ever have in the past, and there is much more fun happening at the RV parks than the hotels! I no longer have to worry about squeezing a weeks' worth of toiletries and clothes onto my motorcycle; it all goes into my RV now.
This year I arrived at my RV Park in Bullhead City, AZ on May 24th, 2013 and proceeded to set up camp. I put up my Star Spangled Banner, California Republic, and POW/MIA flag above my RV, took the motorcycle off of the trailer, unrolled the awning, and we were ready to rock and roll.
The first thing I saw when I rode my motorcycle to the strip which was just across the river from Laughlin, NV, was an electronic sign stating that no this was a no MC Colors event, soft cuts not allowed, and bait motorcycles were being used to catch thieves.
I do not mind going after motorcycle thieves but I certainly did not like the fact that a major event such as this managed to ban all motorcycle patches from the strip. I think it is a violation of the 1st Amendment right to Freedom of Speech.
Notwithstanding the affront to motorcycle club members, this year's event was a great time. There were plenty of fine looking ladies all over. Obviously there were guys for all the gals as well. There was the usual full line up of good bands and plenty of booze all over the place.
Those that know me know that I do not drink alcohol or use drugs. I would rather ride than sit around watching a bunch of bikers get shit faced at the bar.
Ride is exactly what I did throughout the entire event. I put on almost 1000 miles during the 6 days I ended up staying in Laughlin/Bullhead City. I found a road that is off the beaten track near Oatman, AZ called the scenic byway. My companion and I literally owned this road on Sunday. You are basically in the middle of the desert with no contact to the outside world for many miles. It was a great and hot ride.
During the ride in the desert I kept thinking I hope nothing happens to my motorcycle because here I would be up shit's creek without a paddle. I opted to take a more populated route back to the RV on the way home since it was getting dark.
I managed to win over $70 dollars as well on this trip where ordinarily I always lose at the casinos.
On a down note one of my friends was arrested on Friday night /Saturday morning for Disorderly Conduct and another charge. They were transported from Bullhead City to Kingman, AZ to the county jail there. There was a weekend judge on duty. Suffice is to say I got almost no sleep on Friday night / Saturday morning, and I had to go bail them out on Saturday afternoon and give them a ride back to Bullhead City. Saturday night was spend crashed out in my RV recovering from helping my friend out.
Aside from bailing my friend out and losing Saturday night, I had a good time this year at the Laughlin River Run Motorcycle and Biker Rally. I will be going to many rallies this summer including Sturgis, Las Vegas, and Palm Springs.
See you on the road.
By California Motorcycle Accident Lawyer and Biker Attorney Norman Gregory Fernandez, Esq., © May 1, 2013