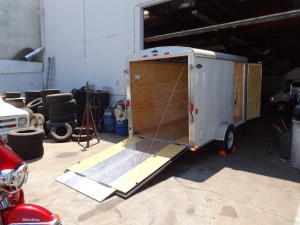 You may remember reading about my enclosed motorcycle trailer project that you can get to by clicking here.
Phase 1 included adding a 2' by 12' strip of diamond plate from the length of the trailer all the way down the ramp door and small ramp, which is about 20' of diamond plate. I also had the floor surface sanded and had multiple coats of Urethane brushed onto the wood to protect it.
I also had a Biker Bar strapless motorcycle towing system installed in the trailer, and a wheel chock. With the Biker Bar strapless towing system, there is no need for straps to hold the motorcycle in, and the wheel chock is not really needed as well. I added it just in case.
You can see the end result of the phase 1 customization in the pictures in this article. When I go to Sturgis, I will film me riding the bike into the trailer and securing it into the Biker Bar strapless towing system. I think it is totally cool. I am actually going to meet the expert on the Biker Bar over in Sturgis at Black Hills Harley.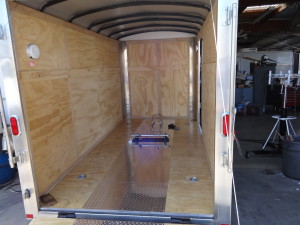 Phase 2 is about to begin next week. Originally phase 2 was going to encompass me installing cabinets and racks into the trailer. I will not have time to install everything I want for phase 2 before Sturgis. I have also added a diamond plate trailer tongue box to phase 2. This will be installed next week.
The trailer tongue box will allow me to carry all of my straps, motorcycle cleaning supplies, and other things inside of the box without having to put it in the trailer or the motorhome.
If you look at the stock trailer pictures here, you will see all of the room on the trailer tongue that is where to box will be mounted.
Phase 2 also includes mounting a spare trailer tire inside the trailer, however, I will not order the tire until next Monday.
Next week phase 3 of the trailer project will begin as well which is a custom wrap of my law firm advertisement onto the trailer.
Things are coming along well. I will get as much done before I leave for Sturgis in 10 days.
By California Biker Attorney and Motorcycle Accident Lawyer Norman Gregory Fernandez, Esq., © July 20, 2013