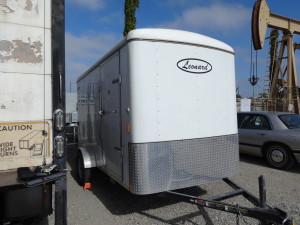 As part of my thousands of miles of travel each year to various motorcycle rallies all over the nation, I have come to the conclusion that for motorcycle rallies of great distance up to and including 1000 miles or more each way, it is not practical to ride my motorcycle to every event.
I used to be one of those hard core bikers who laughed at "the trailer queens" trailering their motorcycles to rallies. Hell I was so hardcore that I only put on a Windscreen on my motorcycles in the past 10 years.
I remember the good old days of doing 90mph in the deserts of Arizona with the temperature at 120, no helmet on, no windscreen on, holding on for dear life. I have ridden with hundreds and probably thousands of people over the years, who can attest to this.
Well at this point in my life, especially since I acquired a Class A Motorhome, I have decided to join the ranks of those who go for comfort and fun when traveling to motorcycle rallies that are a long distance away.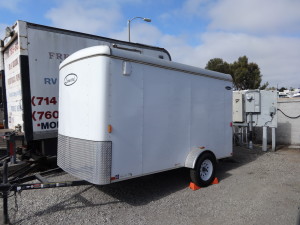 I have come to the conclusion that many people tow their motorcycles for one reason or another, and it is okay. You will notice many bikers and motorcyclists at the rallies with their RV's.
Furthermore, my law firm, The Moy & Fernandez Law Group, Real Bikers – Real Lawyers, has had enough of watching other so-called marketing outfits holding themselves out as real biker lawyers at the rallies, while I just sit by and complain.
I have decided that my firm will also have booths at the rallies. However, instead of being a marketing outfit, we are the real deal. We will prove it at our booth. Let's see the other guys do that. Anyway……..
Along these lines, I have acquired a 6 foot wide, by 12 foot long, by 7 foot high, brand new enclosed cargo trailer from Carry-All.
My plan is to customize it to not only trailer my motorcycle to events behind my RV, but to make it in to a bad ass trailer that will carry my law firm booth stuff, for when we start appearing at events next year.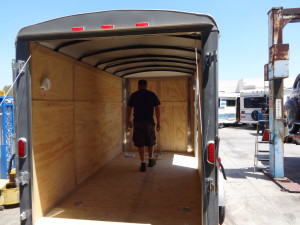 You can see the before pictures here in this article.
The phase 1 plan is to surface sand the floor, add a couple of coats of urethane to weather proof the floor, install a 2 by 10 strip of diamond plate metal in the middle for motorcycle traction, install a Biker Bar strapless motorcycle fastening system in the middle, along with a front wheel chock, and to install a wireless camera in the back of the trailer, since with my 35 foot RV, I won't be able to see squat behind me at 50 feet away. A wireless receiver will also have to be powered and hooked up to my camera monitor in the RV which already has 3 cameras attached to it.
The phase 2 plan is to add a few cabinets, racks, and storage items within the trailer for all my motorcycle cleaning stuff, extra oil, helmets, and motorcycle gear. I am also going to acquire a spare tire.
The phase 3 plan will begin on July 23, 2013, with Monster Graphics of Huntington Beach wrapping the entire trailer with a custom Vinyl advertisement for my law firm. I will unveil it on here first. I will give you a little hint, there are some hot babes on it!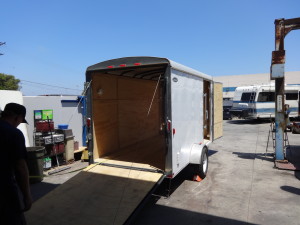 The trailer will be ready for its first big road trip on July 30, 2013, when I travel 1500 miles to Sturgis one way.
I will review all the items being installed into the trailer including the trailer itself in future articles.
I hope my journey helps you to acquire and customize your own motorcycle trailer.
One curious note about the customization so far, the shop that is doing the work is so worried that the Biker Bar strapless trailering system will not work, they made me sign a waiver in case any damage happens to the motorcycle while using the Biker Bar strapless motorcycle trailering system.
I am going to do a full write up on the Biker Bar strapless system, once I have a chance to test it out, but I have all confidence it will work as promised. If I see any reason for concern, I will reinforce the trailer floor. The instructions say for a 3/4″ wood floor, it is all that is necessary.
I am going to have 3/4″, plus diamond plate. Hell, worst case scenario, I will use straps as well. The trailer has 4 recessed D-Rings for strapping if necessary.
We will see!
By California Motorcycle Accident Lawyer and Biker Lawyer, Norman Gregory Fernandez, Esq., © July 9, 2013