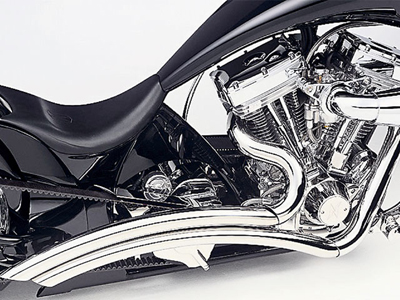 ** 6/2/09 Update: California State Senator Fran Pavley a few months ago made herself motorcycle public enemy number one in California after she introduced legislation that would have required smog checks for all motorcycles of model year 2000 or newer. The bill proposed to start enforcing the measure in 2012, but that has now been changed.
The proposal has been amended to authorize police officers to fine bikers who have removed catalytic converters, instead of requiring the emissions testing. The senate approved the amended bill which now goes to the state assembly. If it passes there, the Governors signature is all that will be needed to make it law..
In reality the cost of policing the original measure, in relation to the minuscule amount of pollution a motorcycle puts out, just did not make sense when the two factors were weighed out under the original plan.
So under the new proposal, the police will now be able stop and fine bikers with allegedly modified stock systems. This is worse then the smog bill proposal. How are we supposed to prove to a police officer that our smog system on the motorcycle has not been tampered with? This notion is absured and puts too much discrestion in Police officer hands.
Make sure you keep writing your state senators!
*** 5/27/09 Update: A California State Senator has informed me of the following: "Due to the fiscal costs associated with SB 435, it has been placed on the Senate Appropriations legislative suspense file." It appears that this bill has been placed on the shelf for now!
Well leave it to the California state legislature's to come up with another dumb idea that may cost many people their jobs, will have no significant impact on air-quality, can be easily skirted, and will serve as another way for the state to take our money through backend taxes.
Welcome to California State Senate Bill 435, ("SB 435") our State lawmaker's idiocy at its finest. You may think that as a Biker Lawyer I would embrace more laws; wrong, I embrace laws that are reasonable, not laws that are just meant to discriminate and unjustly tax a class of citizens. SB 435 is meant to do just that, unjustly tax and discriminate against Motorcycle riders and bikers. Don't let anyone lead you to believe otherwise.
The proponents of SB 435 are selling the bill as a means to clean up California's air and to ensure that motorcyclist and bikers do not modify their exhaust systems.
There are many problems with SB 435, namely; there are already laws that prohibit motorcyclist and bikers from modifying their exhaust. Therefore this bill is duplicative. Secondly, it is very easy for a motorcyclist or biker to simply put their stock exhaust pipes on for a smog test, and then remove them after the test. The bill is asinine. Thirdly, motorcycles make up a tiny fraction of gas powered motor vehicles on the road today. There is no valid evidence whatsoever that SB 435 will clean up the air at all. Hell if you want to clean up the air, why not force everyone to put catalytic converters over their cooking ovens and at restaurants? Actually I better not give the legislatures any ideas. They actually sit around on capital hill thinking up shit.
SB 435 is all about hype and further discriminating against motorcyclist and bikers.
With a State already in a budget crisis, the States plan under SB 435 would cost untold millions of dollars to implement, and ad an added tax by way of fees to motorcyclist and bikers who are already pay enough taxes. As the old saying goes, you cannot squeeze blood out of a turnip.
Every Californian who cares about freedom should contact their State Representative and give them a piece of your mind, and tell them to vote no on SB 435. Our State is in fiscal crisis, we certainly do not need any more regulation that will put people out of jobs, cost millions to implement, cost motorist more money in a back end tax, with no real benefit to the people of the State of California.
It is easier to prevent a dingbat scheme like this from being signed into law, then to reverse the law once it is put into place, as we all learned with helmet laws in the State. Therefore it is imperative that we fight this proposed Senate Bill Now!
What if the law is enacted? Simple, put your stock pipes back on for the smog test. I will not give advice on what do after the test!
I am sure that many of you have sold or given away your stock pipes. Bad move. You should at all costs keep your stock pipes now. Hell why pay another 500-600 bucks to get another set of stockers simply to pass a smog test.
Smog test or no smog test, they will not get rid of us motorcyclist and bikers just yet! I just prefer not to have to pay a back end tax based on a law that has no demonstrative results and is useless.
By California Motorcycle Accident Attorney and Biker Lawyer Norman Gregory Fernandez, Esq., © 2009