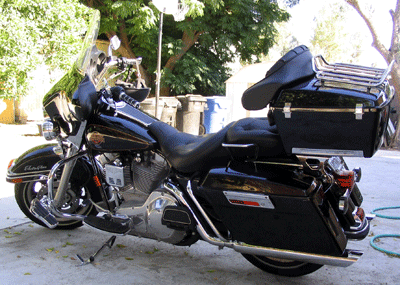 Anyone who has installed the Detachable Tour Pak Rack Kit on their Harley Davidson Motorcycle will soon find a couple of things that could be better.
You can read an article that I wrote about installing a Premium Tour Pak on my Electra Glide by clicking here now.
Tour Pak Relocation Kits
First off, anyone that rides a Harley Davidson Touring Motorcycle will notice that on a stock setup either with the detachable back rest, or standard or detachable tour pak, that it can become very cramped when you have a back seat passenger behind you.
I myself am not fat, nor is my old lady. As a matter of fact my old lady is skinny. Nonetheless we were cramped on my Electra Glide with the detachable sissy bar or the detachable tour pak installed.
I for one don't mind feeling my old lady behind me on rides, however when you are on a long run doing 500 mile plus days, it is nice to be able to stretch out if you want to. As for her it is nice to not have me using her as a back rest if you get the drift!
I went looking for some way to move her back so that I could stretch out, and to make it comfortable for both of us on long motorcycle runs.
I found 3 after market solutions to relocate the tour pak back.
Kuryakyn makes a 2 inch tour pak relocation kit You can see it by clicking here. They state that it is not compatible with the Harley Davidson Detachable Tour Pak Rack so the Kuryakyn solution was not for me. Besides, I cannot see spending $199.00 for only 2 inches of room!
Continue reading "Two Great After Market Products for the Harley Davidson Detachable Tour Pak: (1) A 4.25 Inch Tour Pak Relocation Kit; and (2) Aluminum Docking Mounts to Replace the Stock Harley Davidson Plastic Docking Mounts; My Review!"