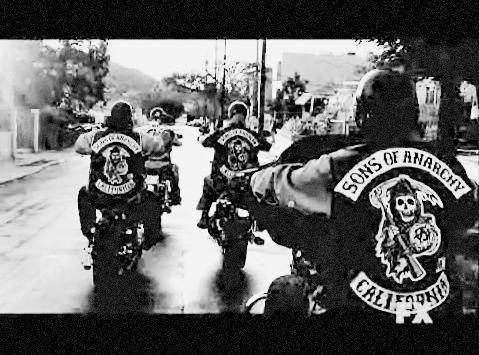 I saw a comment from one of my Facebook friends wherein he stated that he just got through watching "Days of our Sons of Anarchy" which was a jab at the popular TV show Sons of Anarchy, comparing it to the "Days of our Lives" women's soap opera on TV.
Unfortunately, I will admit to watching the TV show since the beginning.
I have been in motorcycle clubs, plus some of my friends are extras on the show playing both Sons and Mayans.
At least for me the bottom line is that the TV show has become, and probably has been nothing more than a biker soap opera the entire time.
One of my good friends, who has ridden in a club with me and who some would consider to be a hardcore biker called me last week after one of the shows to discuss a specific thing that happened in the show. He was dead serious about the issue.
It reminded me of my mom many years ago, discussing General Hospital with one of her friends.
In the back of my mind I was laughing. Here is this hardcore biker dude calling me about something that was shown on the Sons of Anarchy TV show.
The TV show only shows a trivial amount of actual riding on motorcycles. It does show a bunch of guys running around with cuts on, but all in all, the TV show is designed to keep you wanting to come back and watch some more.
The Sons of Anarchy TV show has no basis in biker reality other than the fact that there are dudes on the show wearing motorcyle club patches and who ride motorcycles from time to time.
Hell the only reason I have watched it this long is because my Digital Video Recorder (DVR), is set to record the show each week.
One interesting thing that I have seen as an outcrop from the Sons of Anarchy TV show is a bunch of guys riding around with Sons of Anarchy t-shirts that look like soft cuts, (a soft cut is a shirt that has a motorcycle club patch printed on the back and that can only be worn by members), and even guys wearing Sons of Anarchy cuts. (a cut is a leather or denim vest with a members motorcycle club patch on it only for members)
I have even seen purported Sons of Anarchy motorcycle club chapters popping up all over the nation.
These guys do not realize that there are real motorcycle club members worldwide who worked very hard to earn their motorcycle club patches, and they may not be too kind to a guy that sticks on a Sons of Anarchy patch that was purchased off of eBay, to make him look like a real motorcycle club member.
If you watch the TV show, fine, however, don't be stupid enough to show up at motorcycle events with Sons of Anarchy soft cuts or real cuts, you may get yourself into trouble with real deal club members.
I have seen another new trend on the internet, and in real life, there are a bunch of new riding clubs and motorcycle clubs popping up because of the TV show.
I have seen one group in particular that I will not name, wearing cuts with front name badges, side rockers, the works. They only have one a one piece patch in the back, but the color of their patches is the same as the guys on the TV show.
I think it is a big mistake for these guys to be wearing cuts the way they are. I would not want to be anywhere near them when they get confronted by a real motorcycle club.
If you are not in a real and recognized motorcycle club, you should not be putting on club patches and pretending you are in a real club. It can only lead to trouble.
On one last note, in all my experience riding with and dealing with motorcycle clubs throughout the years, I have never seen anything go on like what goes on in the TV show.
So there it is, the next time you watch the TV show Sons of Anarchy, remember, you are watching a soap opera.
By California Motorcycle Accident Attorney, and Biker Lawyer, Norman Gregory Fernandez, Esq., © November 17, 2011