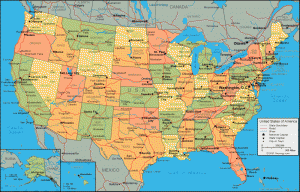 I for the most part have worked my tail off since the age of 14 when I got my first job as a Bus Boy at a pizza joint in Canoga Park, CA called "Mancini's Pizza Boy."
I have taken time off here and there for short vacations, but I have never really had what I call a long vacation.
Well that is about to change.
I just celebrated my 49th birthday two days ago.
It has always been my dream to travel this great nation, The United States of America, on the ground where I can really enjoy it.
Yes, I have flown all over the nation, and to various other countries, but that is not the same as traveling on the ground. Yes, I have ridden my motorcycle near and far, but I have not traveled the entire nation for an extended period of time let alone one month.
That is about to change.
I am about to embark in my trusted class A, 35′  Georgie Boy" on a one month exploration of this great nation.
My dingy will be my Electra Glide Ultra Classic which will be towed behind on a Trinity 3 motorcycle trailer from theusatrailerstore.com.
This will be the first time I take a vacation where I am actually trailering my motorcycle. Secondly, I am not ashamed to say that I will be trailering my motorcycle on this trip. This is an RV trip where I will be living in the RV while I travel cross country, not a motorcycle trip where I sleep in a tent or motel.
I could always travel on the motorcycle and then stay in hotels or motels, but that would not be the same as traveling the nation in my RV. My plan is to park each late afternoon at an RV park, hookup the RV to everything, unhook the motorcycle, and off we go.
If all goes well we will be off the road by 3 or 4 each afternoon so we can take the Harley out and explore.
I call the Georgie Boy my mobile law office because it will be impossible for me to get away from the office for a month without working, hell I have a trial starting up in Fresno County on September 9, 2012. I will do consultations, and work cases while in the RV via wireless internet, and one hell of an office phone system.
For my many clients do not worry, our office will still operate at full capacity, and I will still be available at 800-816-1529 ext. 3. If I don't pick up right away, do not fear, I will be returning calls from the road. My paralegal Kathy Serpas will be available at x. 420, as well as the rest of my staff.
As for the trip, the plan at the present time is to travel from Southern California, through Arizona, New Mexico, Louisiana, Mississippi, Alabama, and Florida, and then up through Georgia, South Carolina, North Carolina, Virginia, and then Washington DC. If there is time we will try to make NY City. If not we will go to Pennsylvania, and then back west through South Dakota and Sturgis, and from there we will probably do the direct route back through Wyoming, Utah, Nevada and then back to Southern California.
This will be a one month trip but the plan is not to rush to each destination from day to day, which would be no fun. I plan on taking it easy because I want to see the sites and enjoy the trip. I may stay a couple of days at a particular location like the sunny beaches of Florida, Washington DC, Pennsylvania, (I cannot wait to walk the fields of Gettysburg; I am a civil war buff) and South Dakota.
I plan on writing Blog articles each night from whatever destination I am at so each of my Biker Law Blog readers can take the trip with me. There will be pictures and video as well.
I will be writing more articles before I leave on the trip. I already have open invites for lunch and dinner from at least 100 of my Facebook friends in the various States I will be traveling in. Maybe I will meet some of you along the way as well.
The title of this story is "Planning the trip of a lifetime." However, I have decided that this will be the first of my "trips of a lifetime." I will try to do a similar trip every year to two years from here on out, or at the worst case, to truncate my trips to two weeks. For me this is a beginning of something new.
See you all on the road.
If you had a motorcycle anywhere in California or you were a passenger in a motorcycle accident, you may call us for a free consultation 7 days a week, 24 hours a day at 800-816-1526 x. 1.
By California Motorcycle Accident Attorney, and Biker Lawyer, Norman Gregory Fernandez, Esq., © June 22, 2012