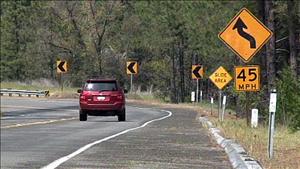 PLACERVILLE – California
A captain with the California Highway Patrol has been arrested for suspected drunken driving after crashing his Harley-Davidson motorcycle in El Dorado County.
A CHP accident report obtained indicates that Robert D. Patrick, 47, was arrested late Friday night, and then released for treatment of moderate injuries related to the motorcycle accident, at Sutter Roseville Medical Center.
According to the report, Patrick was riding a 2008 Harley-Davidson Fatboy southbound on Mt. Aukum Road south of Fairplay Road when he failed to negotiate a curve. The motorcycle traveled onto the dirt shoulder and overturned.
The report stated that due to Patrick's level of injuries, his level of sobriety was undetermined and subject to further investigation. Patrick was released from the hospital Saturday.
Patrick is a 25-year CHP veteran and commander of special operations at the CHP's Valley Division office in Rancho Cordova, according to CHP Asst. Chief Ken Hill, who is Patrick's immediate boss.
Hill indicated that the investigating officers gave Patrick no special courtesy because of his position with the CHP.
"I can assure you we handled it the way we would with any citizen. There was no preferential treatment," Hill said.
Hill said an internal CHP investigation was underway in addition to the criminal case that will be handled by the El Dorado County District Attorney.
Hill said appropriate action would be taken at the conclusion, but that a DUI conviction would not necessarily end Patrick's career with the CHP.
For the record I do not think anyone should be riding motorcycles after drinking any alcoholic beverage, because it is flat out too dangerous.
I have friends who regularly drink a beer or two and then ride. I always tell them that it is a big mistake. It is better to wait until you are done riding, before you drink.
The case of CHP Officer Robert D. Patrick is a horrendous example of the pot calling the kettle black. I wonder how many people Officer Patrick has busted in his career for drinking and driving.
I am quite sure he also knows how alcohol affects a person's ability to drive, let alone ride a motorcycle.
Officer Patrick is innocent until proven guilty. However, if he is found guilty of DUI on a motorcycle, his ass should be fired. We do not need officers breaking the laws we hire them to enforce.
You can read a copy of the CHP Report by Clicking Here Now.