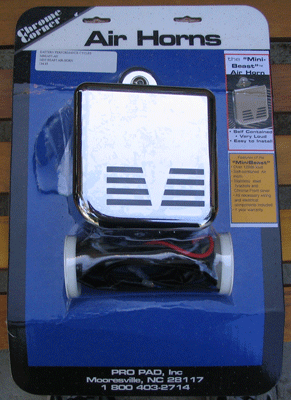 *** June 8, 2009 update below the main article. Check it out!
I just installed the Pro Pad Mini-Beast Air Horn on my Harley Davidson Electra Glide and all I can say is this little beast is truly LOUD!
You can check out the Mini-Beast Air Horn at the Pro Pad website by clicking here now.
This self contained unit will fit on most Harley Davidson motorcycles, and can be fitted to metric and other types of motorcycles. The most unique feature of this air horn which sets it apart from other air horns is the fact that the air compressor and horn are all contained in a stainless steel cover that is not much bigger than a stock Harley Davidson cow bell horn cover. This horn uses the stock horn button, which is to be expected on any aftermarket horn! I would never buy or install an aftermarket horn which did not use the stock motorcycle horn button.
Other types of air horn systems require you to mount trumpets or some other sounding device on the motorcycle somewhere, and then run an air hose from the trumpets to an air compressor. You then have to find a place on the motorcycle to mount or hide the air compressor, which is a hassle.
The Mini-Beast air horn is self contained in the stainless steel cover. Easy!
The other systems I looked at were also much bigger and take up too much room on the bike. I like the fact that the Mini-Beast not only fits in the stock horn position, but it actually compliments the looks of the big V-Twin engine in the Harley.
You may ask why I decided to put an air horn on my Harley; simple; stock motorcycle horns are basically worthless, especially at highway speeds. A loud air horn gives motorcyclist a LEGAL way of getting a cagers attention even with their windows rolled up, and even when they are on the phone. This is a way of getting noticed without having deafening and illegal loud open pipes on your bike.
I will tell you what, at 128 decibels this Mini-Beast will not only legally get cagers attention; it will shock them! Did I say this thing is loud……….
The installation of the Mini-Beast Air Horn was basically no problem at all because everything I needed to install the horn was contained in the package. The package contained the horn itself, which was pre-mounted in its own stainless steel cover, a wire harness, and large and small tie wraps.
Continue reading "A Review of the Pro Pad Mini-Beast Air Horn; Thumbs Up!"