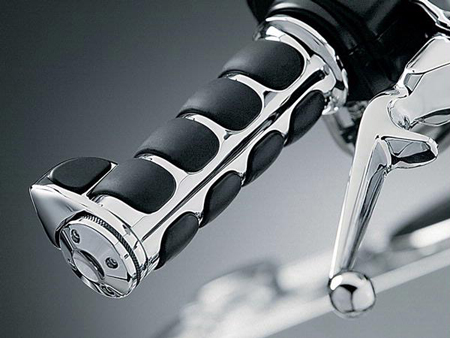 I installed these grips on my Harley Davidson Electra Glide back in May of 2007. I am just now finally getting around to writing my review over two years later. It has been two years of great riding, and the grips are no worse for wear.
First off I have used Kuryakyn Premium ISO Grips on various motorcycles that I have owned for the last decade. I have used these grips not only on my Harley Davidson Electra Glide, but also on some Japanese cruisers I have owned as well.
As far as I am concerned, there is no other more comfortable and good looking grip on the market from any company, and for any motorcycle. No, I am not a paid spokesman for Kuryakyn. These grips to me are a mandatory upgrade.
I have used stock grips, Buffalo grips, and other types of grips. Nothing compares to the Kuryakyn ISO grips. They are wider than most stock grips which make them easier to hang on to, and the rubber pads on the grips really help out on long runs. With respect to aesthetics, they look awesome.
I have seen some guys with totally chrome grips. All I can say is that they must not ride far. Without good soft grips your hands will be going numb and hurting in no time at all. The Buffalo grips literally chewed my hands up, even with gloves on.
With respect to installation of these grips, I am only going to discuss the installation on my Harley Davidson Electra Glide in this article.
I am a biker lawyer and a motorcycle accident attorney here in California. I am no mechanic by any means. If you read through the Biker Law Blog, you can see that I am a proficient bolt on accessory type of guy to a certain extent, but I sure am no wrench head. What I am trying to say is that if I can do the install, anyone should be able to do the install.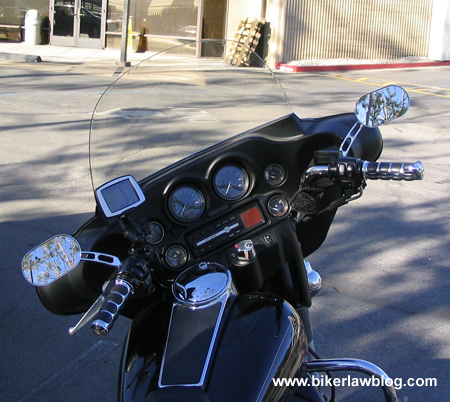 I ordered and installed the Kuryakyn Premium ISO Grips for the Harley Davidson with the dual throttle cable controls, part number 6212. There are also Kuryakyn Premium ISO Grips for metric bikes, and the new Harley Davidson wire guided (electronic) system. Click here to see the grips that I ordered.
Rather than re-write the installation instructions for these babies, you can read them by clicking here now.
Now I must admit the installation of these babies was much worse than the installation of the Kuryakyn Premium ISO Grips on my metric cruisers. On the Harley Davidson, you first have to loosen the throttle cable, the throttle housing is kind of a bitch to open enough to get the two throttle cables out, and there are brass ferrule's which connect the end of the throttle cables into the housing which are a real bitch to work with. I dropped one and almost could not find it.
After you get everything together, you have to remove your air cleaner to adjust the throttle cable.
On top of everything else, you have to pull open the brake lever a bit, and put a shim into the slot on the back of the lever that opens otherwise you can do damage to the switch inside.
I will tell you one thing, I was so excited to get these things installed, that I did not fully realize how difficult the installation would be on a Harley Davidson as opposed to the metric cruisers.
Unless you are a mechanic, I strongly suggest that for this installation, you take the motorcycle to a Harley Davidson dealer, or a 3rd party Harley Davidson mechanic, and let them do the install. It took me quite a bit of time, whereas a trained mechanic could probably get these things on in a half hour or less.
Suffice is to say, I got the grips on. I did however have a hard time adjusting the throttle. I even got to a point where the throttle return was not adjusted correctly and the throttle started sticking. I have long since fixed the problem.
If you are using the fly by wire setup on the 2008 and 2009 Harley Davidson models, don't worry, the installation is super simple because you don't have to worry about any cables. Click here to see a video of how simple they are to install.
The throttle boss is a device that connects towards the end of the grip and allows you to either use your fingers or palm to throttle up rather than constantly having to hold the grip. You can see what it looks like in the top picture above. It is the piece at the end of the grip that sticks out. I have been riding with the throttle boss for so long now that I probably would have to get used to a motorcycle without it.
I give these grips a huge thumbs up! I recommend them for anyone that wants a comfortable ride, and good looks to boot.
By Biker Lawyer and California Motorcycle Accident Attorney Norman Gregory Fernandez, Esq., © 2009