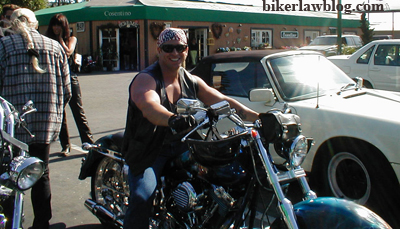 California Law requires that all persons involved in a motor vehicle accident to exchange drivers license, Vehicle Registration, and insurance information with each other at the scene of an accident.
If you are physically able, you must also provide your drivers license, vehicle registration, and insurance information to any other persons involved in the accident.
Never leave the scene of an accident without exchanging information. You could be charged with hit and run which is a felony and a crime in the State of California.
Do not ride down the street and then stop. We highly recommend that you leave your motorcycle where it is until the police arrive so that they can observe the position of the motorcycle and do their report. I recommend moving your motorcycle out of traffic only if you must, to the side of the road or medium of a freeway. ONLY MOVE YOUR MOTORCYCLE IF YOU HAVE TO FOR SAFETY REASONS! In any case, never move your motorcycle to a location where it can be construed by someone that you fled from the scene of an accident!
Unfortunately many persons in the State of California drive illegally without automobile or motor vehicle insurance. It is for this reason that we always tell our clients to carry uninsured motorist bodily injury, and uninsured motorist property damage insurance coverage.