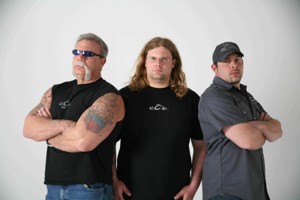 Well tonight the last episode of American Chopper was aired and after a 10 year run, the show is finally over.
On August 13, 2012 I paid a little visit to Orange County Chopper and you can read a little post about it by clicking here. I will post extensive video on my trip to OCC later on.
The gist of this article is about the American Chopper show.
I will admit, I have watched the show for the past 10 years and have written several articles about it here in the Biker Law Blog. If you want to read my previous articles go to the search box on the top of the right sidebar and type in American Chopper. A list of the articles I have written will appear.
No matter what you or I think about the motorcycles Orange County Chopper and Paul Junior Designs built over the years, you have to admit, these guys out lasted most of the bike builders that I have become familiar with over the past decade. There is a long list of motorcycle builders including Jesse James who basically disappeared, all the while, Orange County Choppers and American Chopper continued plugging along.
I am not sure if the show was cancelled or the players did not want to be on the show anymore, it seems to me that their entire operation revolved around the show. Who knows if Orange County Choppers and Paul Junior Designs will survive without American Chopper? Maybe the Discovery Channel will do some kind of spin-off.
I am going to miss watching these guys build bikes. What is ironic is that I am I am sure all of you have gone though many things over the 10 years that American Chopper had its run.
I think that the years 2000-2010 consisted of one hell of a biker and motorcycle popularity craze, which the bad economy and other factors has ended. I have seen many acquaintances that I have ridden with over the past 10 years die in motorcycle accidents, disappear, or quit riding motorcycles.
So at least to me with American Choppers going away, it also signals an end of an era to me in my personal life and so on.
The good news is that the biker and motorcycle scene is still going very strong, albeit not as strong as years past. I am going to miss watching America Choppers and the dysfunctional family behind it building funky motorcycles. I am sure they made a small fortune over the past 10 years while entertaining us all.
Good by American Choppers.
If you or a loved one has been involved in a motorcycle accident anywhere in the State of California, call the real California Biker Lawyer Norman Gregory Fernandez for a free consultation at 800-816-1529 x. 1.
By California Motorcycle Accident Attorney and Biker Lawyer Norman Gregory Fernandez, © December 18, 2012