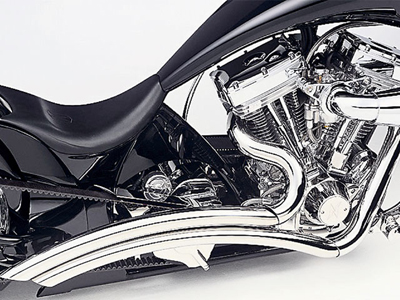 License Requirements
A motorcycle license (M1 endorsement) is required for any rider who rides a motorcycle 150cc's and above.
If under age 18 you must be at least 16 years of age, have a permit for six months, have proof of driver ed. and driver training, and complete a motorcycle training course.
If you are 18 and older you must pass the written motorcycle test, and either take a certified motorcycle rider training course, or make an appointment to take the motorcycle driving test at the DMV.
Safety Helmet
All operators and Passengers must wear an approved safety helmet when riding on a motorcycle, motor driven cycle, motorized bicycle, or motorized scooter in California.
Eye Protection
Eye Protection is not yet required by California Law, but it always recommend that you wear good eye protection when riding your motorcycle. You do not need a law to tell you that a rock in the eye at 50mph will ruin your day and possibly your eyes.
Daytime Use of Headlight
Daytime use of headlight is required by law on all motorcycles. Modulating headlight is permitted. Most new motorcycles automatically have the headlight on when the motorcycle is started. It is best not to screw around and disable this function because you will get a ticket if your light is off.
Passenger Seat
A Passenger Seat is required on all motorcycles if you are carrying a passenger.
Passenger Footrest
A Passenger Footrest is required on all motorcycles if carrying a passenger.
Helmet Headphones / Ear Buds
Helmet Headphones / Ear buds should only have one single earphone only. It is illegal to have dual earphone headphones or ear buds on while driving a car or operating a motorcycle in California.
Muffler / Exhaust
A Muffler is required by California state law. No muffler or exhaust system shall be equipped with a cutout, bypass or similar device (VC §27150. Adequate Muffler Required).
Maximum Sound Level of Motorcycle
Maximum allowable A-weighted sound levels based on measurements taken at a distance of 50 ft from center lane of travel: 1)Pre-1970..92dba; 2) After 1969, and before 1973…88dba; 3) After 1972, and before 1975…86dba; 4) After 1974, and before 1986…83dba; 5) After 1985…80dba (VC §27201-27202. Motorcycle Limits).
California State Insurance Requirements
Compulsory Liability Insurance (Minimum Limits) (10/15/30) – Financial responsibility required. A driver involved in an accident who fails to prove existence of financial responsibility at time of accident shall have driver's license suspended for 1 year, face a hefty fine, and potentially have their vehicle impounded. Plus if you have an accident without insurance you cannot recover general damages. (you are screwed) Don't be a fool; you must at least have minimum liability insurance when you ride.
Motorcycle Handlebars
A person shall not drive a two-wheel motorcycle that is equipped with handlebars so positioned that the hands of the driver, when upon the grips, are more than six inches above his or her shoulder height when sitting astride the seat.
Lane Splitting
Lane splitting or riding between cars on the lane divider is not prohibited by California law so it is therefore legal. However, there is a recognized speed limitation that a rider should go no more than 15-20mph faster than the flow of traffic. If you go too fast while splitting lanes, you could face a ticket.
If you or a loved one has been involved in a motorcycle accident anywhere in the State of California, call the real California Biker Lawyer Norman Gregory Fernandez for a free consultation at 800-816-1529 x. 1.
By California Motorcycle Accident Attorney and Biker Lawyer Norman Gregory Fernandez, Esq., © 2010