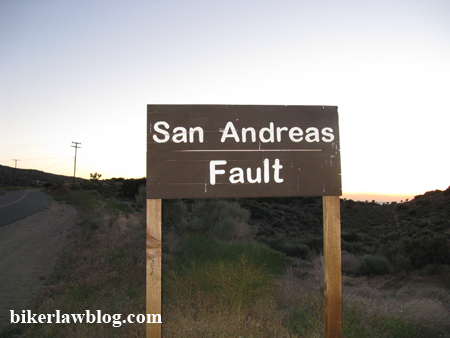 I am sure all of you bikers and motorcycle riders know what it is like to get a bug up your ass to take a ride after work at the end of the week.
Well on Friday, June 18, 2010, 2 days before my 47th birthday, I decided to take my Harley Davidson Electra Glide out for a little ride after work, to the world famous and infamous San Andreas Fault.
If you do not know what the San Andreas Fault is, it is basically an earthquake fault that runs the length of California. They say that in a few million years, Los Angeles will pass San Francisco on this fault. The experts also predict "the big one;" a catastrophic earthquake that is overdue on this fault, that could destroy Los Angeles. Anyway…
Being a native Southern California boy, I know places to ride where I can literally be alone in or near a geographic area where millions of people live.
That is what I decided to do after work on June 18, 2010.
I am sure that many of you in all over the United States can also find great places to secret yourself for a little solo motorcycling without any other traffic interfering with your ride, however, if you are in Los Angeles County, you better know where you are going, otherwise you are not going to find solitude, that is for sure.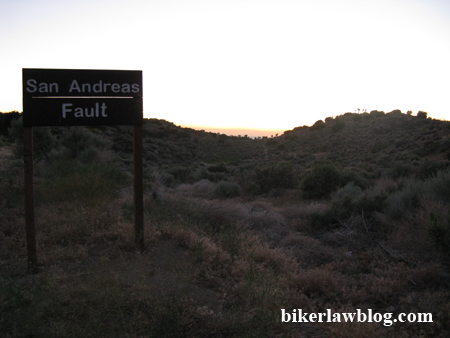 Now I do not mean to brag, but I will anyway. I literally have some of the best motorcycle riding roads in the world right in my back yard. I can go from desert, to sea, to alpine mountains with a flick of my throttle wrist.
My motorcycle ride on Friday took me from the foothills, to the desert floor, to the base of the north side of the Angeles Forest. It was one hell of a nice Friday after work little ride.
No women, no friends, just me, myself, and I, and my Harley Davidson Electra Glide.
As you can see by the videos here, I wore my Gopro helmet cam for the ride.
Since I did not even get to Pearblossum Highway until 7:30pm or so, it was already just after sunset when I started filming. However, I still got some good video.
Since Youtube.com only allows up to ten minute videos, I had to drastically edit the videos down to 3 clips, but you can still get the effect of the ride I am sure.
Video 1 and 2 are shot with my helmet camera, except for a surprise just past the middle of video 2, and video 3 was shot by me with a standard HD camcorder at the actual San Andreas Fault.
You will notice on this ride going from the Mohave desert floor to the foothills of the Angeles Forest, Joshua Trees and cactus, turning into chaparral and scrub brush.
It was dark by the time I finished the ride.
You will notice when I am leaving the San Andreas Fault in video 2 of 3, that I got on my motorcycle quite quickly. Well up in the area where I was riding there are animals such as Rattlesnakes, Brown Bears, Mountain Lions, Coyotes, etc. As it was getting dark, and I was parked next to the San Andreas Fault sign, I heard a big animal stirring up the brush behind me. Hell I have camped in these parts and had nothing with me on this ride except for a 3.5 inch folding pocket knife.
I could sense that I needed to get the hell out of there. I am not stupid enough to wait around until a mountain lion pounces on my ass. It is amazing how sometimes you can sense danger. Only a stupid man waits around to see what is going to happen when he senses danger, has no weapons so to say, and you just know a big animal is in the brush behind you as it is getting dark. Get the picture?
I got my ass out of there, and pulled over about a couple of hundred yards down the road so I could put my gloves on and zip up my hoodie.
All in all it was a great after work Friday ride. I only wish I got there earlier so the video would have had more sunlight.
By California Motorcycle Accident Lawyer and Biker Attorney, Norman Gregory Fernandez, Esq., © 2010